FOXBORO, Mass. — It was the Kenny Gainwell Show on Sunday afternoon.
After months of wondering what the Eagles' running back rotation was going to look like, Gainwell played the bulk of the snaps at running back in the Eagles' tight 25-20 win over the Patriots at Gillette Stadium.
Here's a look at how the work broke down in this game:
Kenny Gainwell: 41 snaps (62%)
D'Andre Swift: 19 snaps (29%)
Boston Scott: 8 snaps (12%)
Rashaad Penny: Inactive
This was a new career high in snaps for Gainwell, who had 14 rushing attempts for 54 yards and also caught 4 passes for 20 yards. Swift had just two offensive touches for 3 yards and also dropped a pass.
When asked why Penny was inactive, head coach Nick Sirianni said that was "just a number count" but then added this:
"I don't ever want to come out of a game where D'Andre Swift has only two touches, either. Where we were with numbers and some of the things, you know, our first three guys and through camp are those three guys, they dressed. So like I said with Boston [Scott], to have four backs up, Boston and D'Andre both only had one carry, we have to play that number game."
Other offensive notes:
• Jalen Hurts and his entire offensive line played all 66 offensive snaps. It wasn't a very good offensive performance but everyone playing the whole game is a good sign. This was Cam Jurgens' first game at right guard and he played every snap.
• DeVonta Smith led the receivers with 65 snaps, followed by A.J. Brown (60) and Quez Watkins (52). Even though the offense was never in rhythm on Sunday, Smith and Brown combined for 126 yards and a touchdown.
• Dallas Goedert played 61 offensive snaps but was targeted just one time and didn't have a catch. His only target didn't come until the fourth quarter.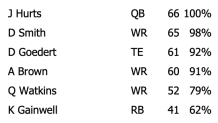 Defensive notes:
• The Eagles' defense was on the field for 80 snaps on Sunday. That's the highest amount of defensive snaps in the Sirianni Era.
• The only player on defensive to play every snap was Darius Slay. He played all 80.
• Justin Evans began the game as the starting safety next to Reed Blankenship. Evans played 77 of 80 snaps. Blankenship would have played all game but missed a couple with an injury. Terrell Edmunds played 10 snaps.
• At linebacker, Nakobe Dean played 49 snaps before leaving with a foot injury. Zach Cunningham ended up leading the way with 70 snaps, while Christian Elliss played 34.
• The DT rotation: Fletcher Cox 50, Jalen Carter 40, Jordan Davis 35, Milton Williams 33, Kentavius Street 6, Marlon Tuipulotu 6. A few of Williams' snaps came as a defensive end.
• The edge rotation: Josh Sweat 59, Haason Reddick 58, Brandon Graham 21, Derek Barnett 16, Nolan Smith 7. Worth noting that Barnett is still ahead of Smith in the pecking order.
• While rookie safety Sydney Brown and rookie corner Kelee Ringo didn't see a snap on defense, they did play special teams. Brown played 19 snaps, while Ringo played 17 on special teams.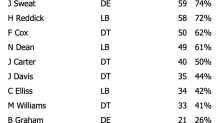 Subscribe to Eagle Eye anywhere you get your podcasts:
Apple Podcasts | YouTube Music | Spotify | Stitcher | Art19 | RSS | Watch on YouTube