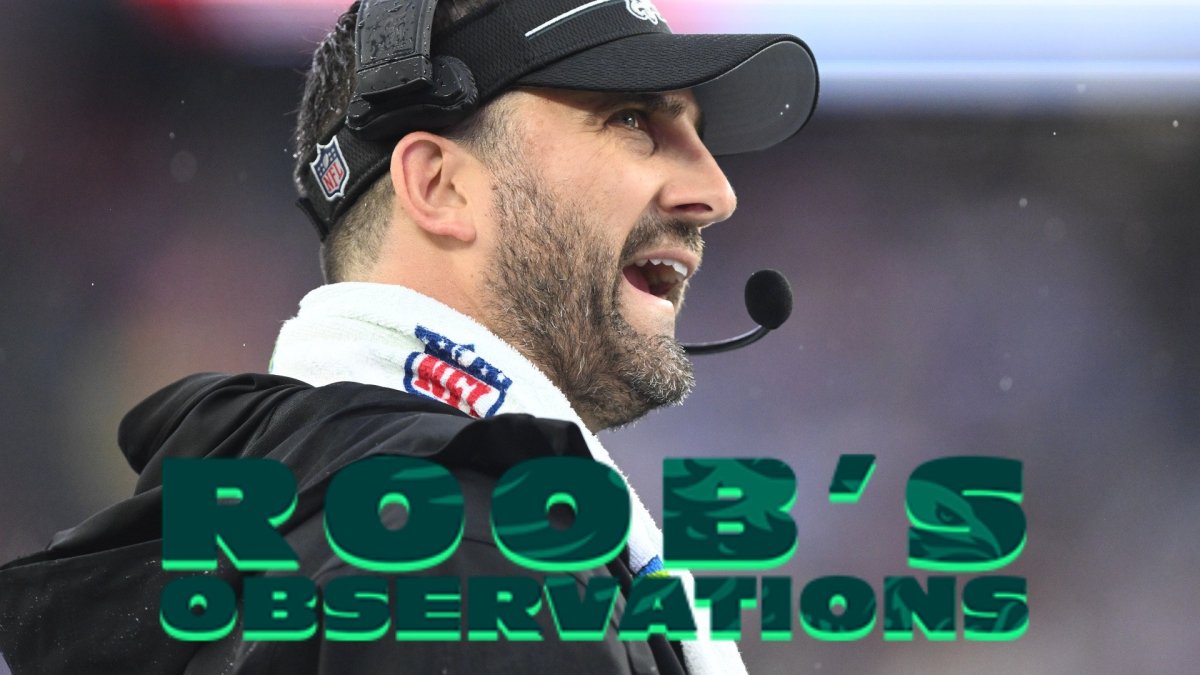 Lots of juicy Jake Elliott numbers, a historic defensive performance on fourth down and a rarity for Darius Slay.
It's the return of our weekly Roob's Eagles Stats, and if you like trivia, numbers and trends you're in the right place.
1. We've got to start with Jake Elliott, who saved the day for the Eagles with his 4-for-4 field goal performance Sunday in the Eagles' 25-20 win over the Patriots, including kicks of 48, 51 and 56 yards. Elliott is the first kicker in Eagles history to make three field goals of 48 yards or more in a game. He became the first Eagles kicker to make two 50-yarders in a half since Paul McFadden hit 52- and 51-yarders in the first half in a 23-23 tie against the Lions at the Silverdome in 1984 and the first ever to do it in a second half. Elliott is now 5-for-6 in his career from 56 yards and out, and his 83 percent accuracy from 56-plus is tied for highest in NFL history by a kicker with at least five attempts. Harrison Butker is also 5-for-6. Only six kickers in NFL history have made more kicks of 56 yards and up. Elliott became the second kicker in NFL history to make three field goals from at least 48 yards in a season opener. Nick Lowery of the Chiefs made kicks of 48, 52 and 52 yards in the Chiefs' 47-27 win over the Saints at the Superdome in 1985.
2. Sunday's game was the first for Dallas Goedert without a catch since Sept. 22, 2019, when he played only nine snaps in a 27-24 loss to the Lions at the Linc. Goedert had caught a pass in 59 straight games, the 2nd-longest streak ever by an Eagles tight end. Zach Ertz caught a pass in 95 straight games before he was traded to the Cards in the middle of the 2021 season. With Goedert's streak over, the Eagles' longest current streaks with a reception belong to A.J. Brown (18 games) and DeVonta Smith (17 games). Ertz on Sunday extended his streak to 117 games, 4th-longest ever by a tight end behind Tony Gonzalez (211), Travis Kelce (143 and counting) and Jeremy Shockey (136). The last Eagles WR with a streak of at least 20 games? Greg Ward caught a pass in 21 straight games from 2019 through 2021.
3. The Eagles recorded three 4th-down stops in the fourth quarter, the first time they've done that in more than 20 years. In November of 2002, in the Eagles' 38-17 win over the 49ers at Candlestick Park, the 49ers went 0-for-3 on fourth down in the fourth quarter. With 11:06 left, the 49ers went for it on 4th-and-15 from the Eagles' 39 and Jeff Garcia threw incomplete to Terrell Owens. On the 49ers' next drive, they had a 4th-and-12 on their own 44, and Hugh Douglas sacked Garcia for an 11-yard loss. And after Tim Rattay replaced Garcia for the 49ers' final drive, the Niners had a 4th-and-7 on the Eagles' 19, and Rattay threw incomplete to 49ers rookie receiver James Jordan (who never caught an NFL pass).
4. Mac Jones' 54 pass attempts equal the 6th-most ever against the Eagles and is the most since Eli Manning had 57 in a 34-29 Eagles win over the Giants at MetLife in 2017. Manning also threw 63 passes against the Eagles in a game in 2016 – a 24-19 Eagles win at the Linc. The only other QBs to throw more passes in a game against the Eagles are Ryan Fitzpatrick of the Jets (58 in 2015), Tom Brady (56 in 2015) and Fran Tarkenton of the Vikings (56 in 1978). The Eagles are 17-4-1 when a quarterback throws 50 passes against them. Jones' 65 percent completion percentage is 4th-highest ever against the Eagles by a quarterback throwing 50 or more passes. 
5. One thing Jalen Hurts didn't do Sunday was throw an interception, and he improved his career mark to one INT every 56.5 attempts, which moved him past Colin Kaepernick (56.4) and into seventh place in NFL history in interception ratio. Going back to Week 5 last year, Hurts has thrown four interceptions on 457 attempts in his last 15 games. Going back to opening day last year, Hurts has more games with no interceptions (23) than any other NFL quarterback. 
6. Darius Slay – at 32 years, 252 days - became the oldest player in Eagles history with an interception return of at least 70 yards. The previous oldest player with a 70-yard INT return was Sheldon Brown, who was 30 years, 262 days, when picked off Chris Redman and returned it 83 yards for a TD in Atlanta in 2009. They're the only players in franchise history with a 70-yard INT return after their 28th birthday. Slay is the oldest NFL player with an interception return of at least 70 yards since 33-year-old Jonathan Joseph of the Texans had an 82-yarder off Kevin Hogan of the Browns in 2017. Slay's INT return was the longest by an Eagle since Malcolm Jenkins' 99-yarder off Tom Brady in 2015 in the same stadium. Slay's TD was the Eagles' longest of any kind on opening day since DeSean Jackson had an 85-yard punt return touchdown in a 38-10 win over the Panthers in 2009 in Charlotte, N.C. The Eagles' longest previous opening-day pick-6 was Joe Scarpati's 34-yarder off Browns QB Bill Nelson at Franklin Field in 1969. It was the Eagles' longest first-quarter INT return since Otis Smith's 74-yarder off Mark Rypien at the Vet in 1991.
7. This was only the second game the Eagles have won in the last 20 years despite fewer than 160 net passing yards and fewer than 100 rushing yards. The other was a 19-10 win over the Raiders at the Linc in 2017. Last time they won a road game with fewer than 160 passing yards and 100 rushing yards was 14-10 over the Giants in 2003.
8. This is somewhat surprising, but Sunday was the first time in nine years the Eagles had two wide receivers with seven catches in the same game. DeVonta Smith was 7-for-47 with a touchdown and A.J. Brown 7-for-79. Last time the Eagles had two WRs with seven catches was a 37-34 win over Washington at the Linc in 2014, when Jeremy Maclin was 8-for-154 from Nick Foles and Jordan Matthews 8-for-59.  
9. With a 27-yard punt return in the Super Bowl and a 25-yarder in New England, Britain Covey became the first Eagle with a punt return of at least 25 yards in back-to-back games since Darren Sproles had an 89-yard TD against the Jets at MetLife Stadium in Week 3 of 2015 and then a 45-yarder a week later in Washington.
10. With a sack in the fourth quarter, Jalen Carter became only the third Eagles rookie with a sack in his first career game (not including the 1987 strike season). In 2000, Corey Simon had a sack against Troy Aikman in the Eagles' 41-14 win over the Cowboys in Dallas – the Pickle Juice Game – and in 2012 Fletcher Cox sacked Brandon Weeden in the Eagles' 17-16 win over the Browns in Cleveland. All three are defensive tackles. In the Eagles' 35-3 loss to the Bears in a 1987 strike game played with replacement players, three Eagles recorded their only career sacks against Bears replacement quarterback Sean Payton.