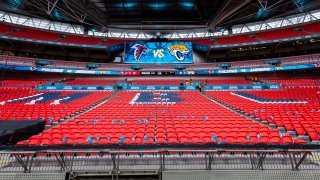 NFL fans were treated to something new on Sunday morning.
For the Atlanta Falcons vs. Jacksonville Jaguars game in London, ESPN+ aired an alternate "Toy Story Funday Football" broadcast stream.
The stream was fully animated and broadcasted from the Toy Story universe, inside the main character Andy's room. The animated players' movements were in sync with what happened in the actual game at Wembley Stadium.
There were plenty of fun aspects to the broadcast for children, including "The Claw" spotting the ball after every play and Slinky Dog serving as the first-down marker chains.
Here's what it all looked like:
Understandably, social media was intrigued by the brand new viewing experience during an otherwise uncompetitive game. The Jaguars jumped out to a 17-0 lead at halftime and cruised to a 23-7 victory.
Some viewers just enjoyed the broadcast for what it was...
While others took the time to roast Desmond Ridder, Arthur Smith and the Falcons during the uninspiring loss...
The NFL will return to London once again next Sunday when the Jaguars face the Buffalo Bills at Tottenham Hotspur Stadium.