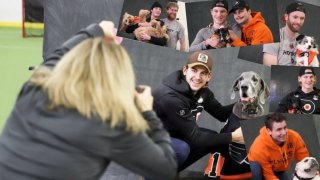 Players and puppies. That's it, that's the post.
Just kidding  — but honestly, I'm not sure if there could be a combination that tops it ... unless Gritty is involved. Then it would be a trifecta for Flyers fans.
Flyers Charities decided to get very creative with its 2020 calendar and went with a shoot that involved the players as well as some furry friends to join them.
Heather Barry, the photographer of the shoot, reflected on the day it all happened.
"My experience with the day was incredible," she said. "We started setting up for the shoot at 9 a.m. early in November. The setup included two lights, a 12x30 backdrop and lots of puppy pee pads and gaff tape. Players arrived with their own dogs and players without dogs were given an adoptable puppy to photograph with."
One of the most notable moments during the day for Barry though came when Brian Elliott spontaneously picked up his dog in the middle of their shoot. If you look at the tweet above, the teaser video shows Elliott along with his son, and a very, very big pup.
"I've been working alongside Flyers Charities all season long," Barry said. "From the Gritty 5K, this Puppy Calendar shoot, and the Flyers Wives Carnival. The team of women there are incredible, positive and it's really refreshing to work alongside them. They go above and beyond for the fans and community events they get involved with."
The dynamic duo of Harvey and Charlie make an appearance with their dad, Claude Giroux.
And Oskar Lindblom with his mini dachshund Tage, is just the content needed to put a smile on your face.
It was obvious that the players enjoyed the morning, all except for Kevin Hayes, who apparently is quite fearful of dogs. He was given the smallest one and attempted to quickly wrap up his shoot … but we'll need to get some more information on that one. Perhaps when the Eagles a.k.a the underdogs beat his beloved Patriots in the Super Bowl with a score of 41-33 was the turning point for his opinion on man's best friend?
Anyways, the calendar is available for purchase here and you can also get them at the Flyers Charities table Saturday night when the team hosts the Colorado Avalanche.
Make sure to get them soon though, since they won't be available at the Wives Carnival on Feb. 23.
Also, is now a good time to bring up the discussion of getting a team dog again? I volunteer to take care of it during road trips, if that sways the decision in any way.
Do I need to make another petition? Don't tempt me.
Click here to download the MyTeams App by NBC Sports! Receive comprehensive coverage of your teams and stream the Flyers, Sixers and Phillies games easily on your device.
More on the Flyers