VOORHEES, N.J. — For a rebuilding franchise like the Flyers, a summer development camp holds a little more intrigue than it would for a contending team.
Rather than the idea of winning now, there's a great deal of focus on the future and which players are going to be a part of it.
The organization put many of its prospects on display Sunday as 2023 development camp kicked off at Flyers Training Center.
Bobby Brink, one of the few in camp with NHL experience already, put it well.
"I think it's a good year to be a prospect here," the 21-year-old winger said.
This year's camp won't feature 2023 seventh overall pick Matvei Michkov or 2022 fifth overall pick Cutter Gauthier, but there's still plenty to follow.
Let's get into five observations from Day 1.
1. Andrae's outlook
One of the bigger storylines in the Flyers' youth picture right now is where will Emil Andrae play this season.
A critical aspect to the club's rebuild has to be finding long-term stability on the back end. The Flyers haven't had it for a decade-plus. They want to get younger on defense and identify some potential foundation pieces. They're hoping Andrae, a 2020 second-round pick who has developed promisingly in Sweden, can be a part of the solution moving forward.
The 21-year-old signed his entry-level contract in March, signaling what seemed to be the end of his time in the SHL, Sweden's top pro league. He played some games for AHL affiliate Lehigh Valley down the stretch of last season and in the playoffs. But, there is a possibility Andrae has to go back to HV71 for another season instead of playing for either the Phantoms or Flyers. Bill Meltzer, the Flyers' official site contributor and a HockeyBuzz.com writer, did an excellent job explaining why that may happen.
At development camp Sunday, Andrae was uncertain about his status for the 2023-24 season.
"It's a little bit complicated because there's, like, a return policy [in the SHL] and stuff like that," he said. "Me and my agent and the Flyers' staff are working on that and we're having a discussion. We'll see what happens."
Is he hoping to be in North America?
"My goal is to be in the best league as possible," Andrae said. "Of course I want to play in the NHL as fast as I can, but I want to stay to my development and keep getting better as a player. We'll see in the future here."
Time will tell where Andrae plays this season and how close he is to helping the Flyers.
But there's no doubt he's one of the best players at this development camp. He stands at a generous and misleading 5-foot-9. The lefty shot is strong, cerebral and ultra competitive.
"He kind of looks like Kimmo Timonen out there I think," Flyers director of player development Riley Armstrong said. "He's got the big, wide base. I'm not comparing him to there, that's some big footsteps to fill, but I definitely think he can be in that role."
Armstrong is not the only one who has likened Andrae to Timonen.
"I've heard that before," Andrae said. "I actually haven't seen him play, but people explain to me that I'm pretty similar to how he was as a player. Small defenseman, little bit of grit to it and also pretty smart."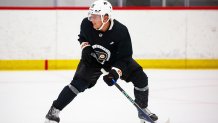 2. 'Big additions'
Patrick Sharp and John LeClair, the Flyers' two new special advisors to the hockey ops department, were on the ice Sunday as part of the development staff.
Armstrong and assistant director of player development Nick Schultz are running the camp. They're being assisted by Chris Stewart, Sami Kapanen, Cara Morey and Samuel Morin, among others.
Armstrong and Schultz were promoted a month ago. Armstrong called Sharp and LeClair "big additions."
"I never thought as a young child watching John LeClair on the Legion of Doom line, that I'd be in the locker room with him chatting about prospects and stuff like that," he said. "It's pretty incredible, but definitely those guys have helped me out in this transition."
3. New number, same shot
The Flyers asked Tyson Foerster if he wanted to make a change from his original No. 52 jersey. So he went with No. 18 because his birthday is Jan. 18 and it's what he often wore while growing up.
The 21-year-old winger still has the advanced shot that he showed off last season in an eight-game audition.
Foerster, a 2020 first-round pick, will be pushing for a full-time role with the Flyers.
"This summer, I've been here for a month now," he said. "Just my legs, my leg strength and my quick steps, I feel like I'm getting better at that. But everything needs improving."
What did he think of the Flyers landing the talented Michkov four days ago at the draft?
"He's an amazing player," Foerster said. "Some of them are saying that he was right up there with [Connor] Bedard, so that's great to have him here and we're looking forward for when he comes."
4. The trade acquisition
The Flyers' 2023 draft class and camp invites were not the only new faces Sunday.
Helge Grans, a 21-year-old Swedish defenseman, made his first impression in Voorhees, New Jersey. Grans came to the Flyers last month from the Kings' organization as part of the three-team Ivan Provorov trade.
"Obviously a bit shocked," he said of being dealt. "I was watching tennis at home on a Tuesday evening and I got a call from Rob Blake at the Kings and he told me I was going to get traded. He said thanks for all the time and so on.
"I heard from my agency that it's a rebuild and a lot of young guys here. They're building up here, so I'm very excited to be here."
The 6-foot-4, 205-pound righty shot was a 2020 second-round pick of Los Angeles. He had a strong first AHL season in 2021-22, putting up 24 points (seven goals, 17 assists) and a plus-7 rating over 56 games for the Ontario Reign. Last season was considered a step backward as he had nine points (two goals, seven assists) and a minus-8 mark in 59 games with Ontario.
On Sunday, he offered a glimpse of his long skating stride, which allows him to quickly close ground.
"I would say I'm a two-way defenseman who likes to have the puck," Grans said. "A bit more offensively, but a two-way defenseman who likes the puck."
5. Samu's speed and spot
A bit of a forgotten prospect at times is Samu Tuomaala.
The Finnish winger headlined the Flyers' 2021 draft class as a second-round pick. The Flyers didn't have a first-rounder that summer because of the Rasmus Ristolainen trade.
Tuomaala's first season as a Flyers prospect was a challenging one in which he played for two different teams in Liiga, Finland's top pro league. He scored three points (one goal, two assists) over 21 games.
Last season, he went scoreless in 14 Liiga games but did damage in Mestis, a lower level in Finland. He recorded 27 goals and 48 points in 31 games.
It's uncertain where the 20-year-old will play this season. He's still somewhat of a project. However, the 5-foot-10, 176-pounder possesses high-end speed. He put his burst on display Sunday when he scored a goal during a drill.
With the Phantoms as an assistant, Armstrong coached Tuomaala briefly in 2021-22.
"I enjoyed Samu, he came over, he had a couple of games with us before he got kind of bounced around over in Europe a little bit there," Armstrong said. "A young kid, I think he has a really nice future in front of him. He can skate like the wind, he can fire a puck. He's got legs on him like Sidney Crosby, they are massive legs. He has a really wide base.
"So I think how his body's going to develop, he's 20 years old, still young, still a lot ahead of him here. I think it's going to be awesome to hopefully get him back on this side of the pond and playing hockey in North America again."
Subscribe anywhere you get your podcasts:
Apple Podcasts | Youtube Music | Spotify | Stitcher | Art19 | RSS | Watch on YouTube