VOORHEES, N.J. — Brent Flahr would agree with Ian Laperriere, that some of the Flyers' best prospects can be better than what they showed in the pair of rookie games against the Rangers over the weekend.
"I think there's another level," the Flyers' assistant general manager said Monday at rookie training camp.
But Flahr and the Flyers won't lose perspective of the big picture. Main camp is ahead this week. That's where jobs will be won and lost. That's where the real evaluation will be done.
Patrick Sharp, a three-time Stanley Cup champion and now special advisor to the Flyers' hockey ops, helped provide some of that perspective from his own personal experience in rookie games.
"He said the first one he played in he was all excited and the second and third ones are really hard to play in just because your focus is more on the main camp," Flahr said. "I think there's a little bit of that in it."
The Flyers were swept by the Rangers in the two rookie games at PPL Center. Last September, the Flyers took both games from New York and Noah Cates jump-started his push for the big club's roster by clearly separating himself from the rest. Tyson Foerster also stood out, scoring an overtime winner in the first game.
But this year, Foerster, who is vying for the Flyers' roster, went scoreless against the Rangers' prospects. After earning some games with the Flyers last season along with Foerster, Elliot Desnoyers also went scoreless. Bobby Brink, one of the rookie camp headliners, as well, finished with a power play assist over the two games.
"I thought Tyson was frustrated. He worked, he competed," Flahr said. "Brinker, the same, I think his execution was off. Desy looked off a little bit to me but I know he has come in great shape, he has been here a lot of the summer and worked hard. I'm sure he'll figure it out. I'm not too worried about any of them."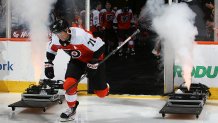 Laperriere has coached all three players with AHL affiliate Lehigh Valley.
"Hopefully it's a wake-up call for some of them," he said Saturday. "At the end of the day, they want to make the big team, but they have to do a little bit more. Hopefully they'll learn from those two games and be better."
Flahr said the Flyers' evaluation of the prospects pretty much starts when head coach John Tortorella's camp commences and the exhibition games get underway.
"It's all big camp, to be honest with you, for the guys that are on the cusp," he said.
Foerster is arguably the top prospect in training camp. He opened the eyes of Tortorella in his eight-game audition last season and is now aiming for a full-time job with the Flyers.
"I think that's everybody's goal that's here, is to make the Flyers," the 21-year-old winger said last Thursday. "That's for sure my goal and, yeah, I think I'm ready."
If Foerster needed an extra tick of motivation, he probably has it.
"Tyson, I think he has worked hard on his skating for one, but I think it's just naturally you assume everything is just going to happen out there and I think it's a bit of a wake-up call," Flahr said. "I think his skating has really improved but the pace when you get up with the big boys, especially when you get into game time, the pace of the games are going to come a lot faster and he can adjust, he's a smart player."