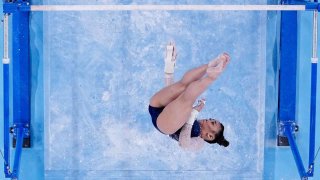 Day 6 of the postponed 2020 Tokyo Olympics is here, and as expected it was full of action.
The United States widened its gap on the medal count leaderboard, Caeleb Dressel reached the podium for the first time in an individual swimming event, and Suni Lee won yet another gold medal for Team USA in the individual women's all-around.
Here's what happened in Tokyo on Day 6:
Suni Lee Wins Gold in Women's Gymnastics All-Around
Suni Lee is an Olympic champion in the women's all-around.
With a 14.600 on vault, a 15.300 on uneven bars, a 13.833 on beam and a 13.700 on floor, Lee led all competitors with a 57.433 overall.
Brazil's Rebeca Andrade wins silver, and ROC's Angelina Melnikova takes bronze.
Dressel Ties Olympic Record in Qualifying Heats
Caeleb Dressel, fresh off the men's 100m freestyle gold medal win from earlier in the day, continued to make waves in the pool. He tied the Olympic record in the men's 100m butterfly, swimming it in 50.39 to advance to the semifinals.
Katie Ledecky also was in the pool for the morning heats, coming in first in the women's 800m freestyle to advance to the semifinals.
Fellow American swimmer Katie Grimes came in second in the heats.
Rhyan White and Phoebe Bacon placed second and fourth respectively during the morning heats of the women's 200m backstroke to also advance.
Wrapping up the qualifying heats was the mixed 4x100m medley relay. Regan Smith, Abbey Weitzeil, Andrew Wilson and Tom Shields were the four participants for the U.S. Shields and Weitzeil led the team to a second-place finish behind Great Britain, concluding the event with a time of 3:41.02.
U.S. Volleyball Survives Comeback Against Tunisia
It wasn't easy, but the United States volleyball team moved to a perfect 3-0 in the Olympic Games with a 3-2 win over Tunisia.
The U.S. had a 2-0 lead, but Tunisia crawled back, forcing the pivotal fifth set where the United States got two key blocks late, one from Haleigh Washington and one from Jordan Larson, to take the fifth set and the match.
In the first set, the U.S. grabbed an early lead and never trailed. They closed out with a 4-0 run to win the set 25-19. The U.S. then took control again in the second set, winning 25-20.
However, Tunisia's Meryem Boz came alive in the third set, securing eight points alone in the set as Tunisia won 25-17. Boz and Eda Edem Dundar combined for 11 points in the fourth set to carry Tunisia to the critical match-tying win to force the winner-take-all fifth set.
But it was Washington and the U.S. that would take the see-saw affair in the fifth set by a score 15-12. Washington had three blocks in the set, finishing the match with a total of five and 13 points. Jordan Thompson had 18 points for the U.S., while Larson added 15. Foluke Akinradewo had five blocks in the victory.
Tunisia received 19 points from Boz and 17 points from Hande Baladin.
The United States puts their perfect record on the line next against the 2-1 ROC.
United States' Suni Lee Takes Lead in Gymnastics All-Around
Suni Lee has taken the lead in the women's gymnastics all-around heading into the final rotation on floor.
The U.S. has won all-around gold in the last four Olympic competitions, and Lee has an outstanding chance to make it five in a row.
Teammate Jade Carey is out of medal contention after falling on her beam routine but could throw a laid-out triple-double in her floor routine for the first time ever in Olympic competition. Brazialian Rebeca Andrade is also in the medal hunt for what would be the first gymnastics medal ever for Brazil.
Suni Lee in Second, Jade Carey in Sixth After Two Rotations in Gymnastics All-Around
With two of four rotations completed in the women's gymnastics all-around competition, Jade Carey and Suni Lee are in the hunt for medals.
The two Americans finished vault and uneven bars in the first two rotations. Lee impressed in bars, earning a 15.300. She currently sits in second place with a score of 29.900, just 0.066 points behind Brazil's Rebeca Andrade.
ROC athletes Angelina Melnikova and Vlasislava Urazova are in third and fourth respectively after solid performances on bars. Carey is in sixth, just 1.266 points behind first-place Andrade with her dominant floor routine still to come.
Two Americans to Go Head-to-Head in Men's Individual Archery
Jacob Wukie won his two opening matches in the men's individual archery event to set up an all-American Round of 16 matchup against Brady Ellison.
Wukie defeated Chile's Andres Aguilar in the Round of 64 by a score of 7-1 to set up a Round of 32 match with Riau Ega Salsabilla of Indonesia. Wukie had leads of 2-0, 3-1 and 5-3, but Salsabilla battled back to tie the match 5-5 and force a shoot-off. However, Wukie shot a 9 to Salsabilla's 8 to advance.
The two Americans face off with a trip to the quarterfinals on the line. That match is set for Saturday.
Torrez Jr. Advances to Super Heavyweight Quarterfinals in Boxing
Richard Torrez Jr. started off his quest for men's super heavyweight gold with a bang, winning his Round of 16 bout via a unanimous decision against Chouaib Bouloudinats of Algeria. Three judges scored the fight 30-27 while two scored it 30-25 in heavy favor of Torrez Jr.
The No. 3 ranked super heavyweight is scheduled to face Cuba's Dainier Pero on Sunday in the quarterfinals.
Looking at the results from the other American fighters, Virginia Fuchs lost 5-0 to Bulgaria's Stoyka Zhelyazkova Krasteva in the Round of 16 of the women's flyweight class. Fuchs won her first fight in the Round of 32 against ROC's Svetlana Soluianova in a 3-2 split decision before the loss.
At the men's middleweight class, Troy Isley lost a 3-2 split decision in the Round of 16 to ROC's Gleb Bakshi, the No. 2 ranked middleweight in Tokyo. The 22-year-old had previously defeated Belarus' Vitali Bandarenka in the Round of 32.
Novak Djokovic Cruises to Victory in Quarterfinal Match
Novak Djokovic is a man on a mission.
Djokovic had his most dominant performance of the Games to this point, making quick work of Japan's Kei Nishikori to win 6-2, 6-0 in just 70 minutes during the men's tennis quarterfinals on Thursday.
Djokovic is looking to become the first men's tennis player to capture the Golden Slam — all four Grand Slams and an Olympic gold medal in the same year.
He moves on to the semifinals, where he'll face Germany's Alexander Zverev on Friday at 11 p.m. ET. Zverev defeated France's Jeremy Chardy 6-4, 6-1 in the semifinals.
U.S. Finishes Fourth in Women's Team Foil Event
The United States fell to Italy in the women's team foil bronze medal match by a score of 45-23.
The trio of Kiefer Lee, Sabrina Massialas and Nicole Ross lost eight out of the nine sets against Italy. Lee, who won the gold medal in the women's individual foil, did not win any of her three sets.
Nicole Ross won the first set 5-3 against Italy's Arianna Errigo. However, the combination of Errigo, Martina Batini, Alice Volpi and Erica Cipressa won the rest against the U.S. to claim bronze, outscoring the Americans 15-3 in the final three to pull away for the victory.
After beating Japan 45-36 in the quarterfinals, the Americans lost to the ROC in the semifinals 45-42 to pit them against Italy for the bronze. With the fourth-place finish, the United States are still looking for their second medal in the women's team foil event.
Women's Rugby Beats Japan, Heads To Quarterfinals
Team USA women's rugby beat Japan 17-7 to clinch a spot in the quarterfinal of Olympic competition.
Ilona Maher kicked off scoring, and Jordan Matyas added a try to make it 10-0 at halftime. Ariana Ramsey helped put the U.S. up 17-0, and Nicole Heavirland made the conversion in the second before Japan's Mifuyu Koide scored their lone try of the day.
The U.S. moves to 2-2, sitting in second behind Australia in their pool. They will face off Friday against the Aussies to contend for the top spot in the pool before finding out their quarterfinal opponent.
Paddling Icon Jessica Fox Wins Elusive Gold in C-1 Canoe Slalom
Australia's Jessica Fox captured her fourth Olympic medal. Only difference? This one was gold.
It came in what was the first-ever women's C-1 Canoe Slalom, with Fox winning with a time of 105.04. Fox finished 3.64 seconds ahead of silver-medal winner Mallory Franklin of Great Britain and 6.09 seconds ahead of bronze-winner Andrea Herzog of Germany.
The paddling icon was a K-1 Kayak Slalom silver medalist in 2012 London Olympics and bronze medalist in 2016 Rio Olympics. She also won bronze in the K-1 event on Tuesday.
Now she has the complete set…
All Four Americans Outside Top 10 After Round 1 of Golf
The U.S. team of Collin Morikawa, Xander Schauffele, Justin Thomas and Patrick Reed finished in the middle or end of the pack after Round 1 of the men's gold tournament.
Schauffele and Reed had the best scores of the Americans, each shooting 3-under par. Schauffele bogeyed on 18 to push him back while Reed bogeyed on 17. They both are in a tie for 12th.
Morikawa sits at 2-under par after the first 18 holes of the tournament, a score that ties him for 20th. Justin Thomas came out even in the first round, where he is tied for 40th.
Austria's Sepp Straka holds the lead with a score of 63, good for 8-under par. Behind him is Thailand's Jazz Janewattananond, who shot 7-under par in the first round. Thomas Pieters of Belgium and Carlos Ortiz of Mexico both ended the round 6-under par, tied for third.
U.S. Men's Tennis Doubles Team Falls in Semifinals; Croatia vs. Croatia in Gold Medal Match
The United States' men's tennis doubles team of Austin Krajicek and Tennys Sandgren has been eliminated in the semifinals.
The duo lost to Croatia's Nikola Mektic and Mate Pavic 6-4, 6-4 on Thursday.
That sets the stage for an all-Croatia gold medal match with Mektic and Pavic set to face Marin Cilic and Ivan Dodig, who defeated New Zealand's Marcus Daniell and Michael Venus 6-2, 6-2 in the semifinals. The final match will be Thursday at 11 p.m. ET.
Krajicek and Sandgren will face Daniell and Venus in the bronze medal match on Thursday at 11 p.m. ET
Golf to Resume Round 1 Competition
After being delayed due to lightning threats in the area, Round 1 of the men's golf tournament is expected to resume play at 3:15 a.m. ET.
Austria's Sepp Straka has the lead with a score of 63, good for eight under par. He was able to complete all 18 holes before the stoppage.
Italy Men's Water Polo Team Comes From Behind to Hand U.S. First Loss
The U.S. men's water polo team suffered its first loss of the Games after surrendering a late lead to Italy.
The United States didn't trail in the match until Nicholas Presciutti put in a rebound with 1:40 remaining to give Italy its first lead of the game at 12-11, which proved to be the final margin in the preliminary match. With the loss, the U.S. fell to 2-1 and squandered an opportunity to guarantee a spot in next week's quarterfinal. Italy improved to 2-0-1.
The U.S. jumped out to 4-0 lead, with Alex Bowen scoring two early goals.
After Italy tied it at 9-9, Max Irving and Alex Obert each scored to give the U.S. an 11-9 advantage with 5:22 remaining. Italy then scored two straight, with the tying goal coming on a penalty shot by Francesco Di Fulvio with 2:22 remaining.
Di Fulvio had five goals and Stefano Luongo added three for Italy.
Bowen, Obert, Irving and Luca Cupido each had two goals for the United States, which next faces Hungary on Saturday at 1 a.m. ET.
San Marino Wins First Ever Olympic Medal
It was a historic moment in the women's trap shooting finals for Alessandra Perilli of San Marino. She secured the country's first ever medal at an Olympic Games, winning bronze in the competition.
Zuzana Rehak Stefecekova of Slovakia set an Olympic record in the event with her score of 43 to win gold. It's her third medal in trap shooting, previously winning silver in 2008 and 2012. The United States' Kayle Browning finished one point behind Stefecekova to win the silver, her first Olympic medal.
Caeleb Dressel Sets Olympic Record to Win Gold in Men's 100m Freestyle Final
Caeleb Dressel won his first solo Olympic medal after finishing first in the men's 100m freestyle final on Wednesday, setting an Olympic record to do so.
Dressel now has four Olympic gold medals.
Australia's Kyle Chalmers and the ROC's Kliment Kolesnikov earned the silver and bronze medals.
Golf Competition Enters Weather Delay
Round 1 of the men's Olympic golf tournament entered a delay around 1 a.m. ET on Thursday.
Play was suspended due to lightning threats in the area.
Team USA Earns Silver Medal in Women's 4x200m Relay Final
The United States women's 4x200m relay team, anchored by Katie Ledecky, won the silver medal late Wednesday night.
China came in first for the gold medal and Australia finished behind the U.S. for the bronze medal. All three teams that reached the podium beat the previous world record.
Team USA's quartet was made up of Allison Schmitt, Paige Madden, Katie McLaughlin and Ledecky.
Sam Kendricks Out After Testing Positive for COVID-19
American pole vaulter Sam Kendricks will not compete at the Tokyo Olympics after testing positive for COVID-19, according to his father.
Kendricks is a two-time Olympian and won the bronze medal at the 2016 Rio Olympics. A replacement for Kendricks has not yet been named.
Phil Dalhausser and Nick Lucena Win Final Pool Play Match
Team USA's Phil Dalhausser and Nick Lucena beat Argentina's Nicolás Capogrosso and Julian Amado Azaad in three sets to close out men's beach volleyball pool play on Wednesday night.
The American duo won the first set 21-19, lost the second 21-18, and won the final frame 15-6.
Dalhausser and Lucena finished pool play with a record of 2-1. The round of 16 begins on Saturday.
Smith, Flickinger Win Silver, Bronze in Women's 200m Butterfly
Regan Smith and Hali Flickinger won the silver and bronze medals, respectively, in the women's 200m butterfly final on Wednesday.
The American duo are both taking home their second medal of the Tokyo Games after each previously earning a bronze. Smith and Flickinger finished behind gold medal winner Zhang Yufei from China.
Australia's Zac Stubblety-Cook Breaks Olympic 200m Breaststroke Record
Zac Stubblety-Cook from Australia broke the Olympic record in the men's 200m breaststroke to win gold with a time of 2:06.38.
Arno Kamminga from the Netherlands earned silver while Finland's Matti Mattsson won the bronze medal. The ROC's Anton Chupkov, the reigning world champion and world record holder, finished .11 seconds off the podium while lone American Nic Fink finished in fifth place.
Bobby Finke Wins Gold in Men's 800m Freestyle
American swimmer Bobby Finke took home a gold medal with an amazing late surge in the first-ever Olympic men's 800m freestyle final.
Italy's Gregorio Paltrinieri came in second place to win the silver medal, and Ukraine's Mykhailo Romanchuk finished in third for a bronze medal.
"I just really wanted to get my hand on the wall," Finke said. "I'm just so happy I was able to switch into another gear."
Women's Rugby Team USA Opens Pool Play With Win
The United States women's rugby sevens team picked up a win in its opening match on Wednesday night, beating China 28-14.
Team USA will face Japan in its next game on Thursday at 5 a.m. ET.
Beiwen Zhang Leaves Court in Wheelchair, Badminton Run Over
American badminton player Beiwen Zhang's Olympic run ended on Wednesday night.
In the round of 16, Zhang was matched up against China's He Bingjiao. After winning the first set 21-14, Zhang was forced to withdraw in the second set. She was wheeled off the court with an apparent injury. Zhang was down 7-9.
Zhang was the 11th-ranked player in the women's singles tournament and had a legitimate chance to make a run at the United States' first Olympic badminton medal.
Kelly Claes and Sarah Sponcil Remain Undefeated in Pool Play
Beach volleyball duo Kelly Claes and Sarah Sponcil move to 2-0 in pool play after defeating Kenya's Gaudencia Makokha and Brackcides Khadambi on Wednesday night.
Team USA beat Makokha and Khadambi in straight sets, winning the first frame 21-8 and the second 21-6.
Claes and Sponcil's next match is against Brazil's Ana Patricia Silva Ramos and Silva Rebecca on Friday at 8 p.m. ET.
Team USA Enters Day 6 with 31 Medals
As the sixth day of the Tokyo Olympics begins, the United States remains at the top of the medal count leaderboard.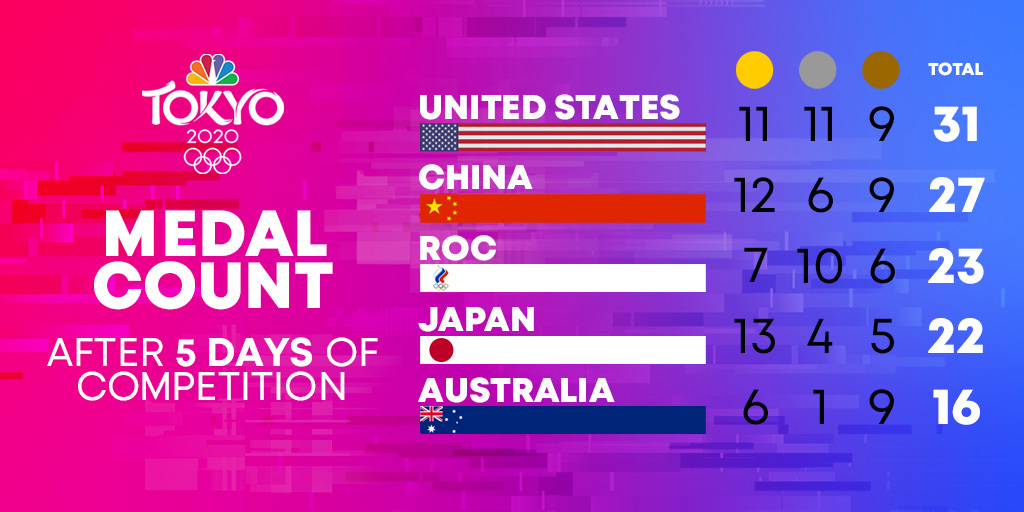 Team USA has a total of 31 medals — 11 gold, 11 silver and 9 bronze. Behind them sits China with 27 total medals, the Russian Olympic Committee with 23, Japan with 22 and Australia with 16.
Golf Tees Off at the Tokyo Olympics
For the second consecutive Olympic Games, golf will be one of the events taking place. It will be featured for the fourth time in Olympic history after making a comeback at the 2016 Rio Olympics. Before Rio, golf had not been a part of the Games since the 1904 Olympics in St. Louis.
Round 1 of the men's tournament begins on Wednesday at 6:30 p.m. ET.
Caeleb Dressel Will Race for First Individual Olympic Medal
The men's 100m freestyle final on Wednesday night could end with Caeleb Dressel earning his first Olympic medal in an individual swimming event.
Dressel already has three Olympic gold medals to his name from swimming relays, including one at the Tokyo Games.
The 24-year-old American has won the men's 100m freestyle at the last two world championships and is the third-fastest 100m freestyler of all time.
Jade Carey to Replace Simone Biles in Gymnastics Individual All-Around
Reigning Olympic gymnastic champion Simone Biles withdrew from the individual all-around finals on Tuesday, and will be replaced by 21-year-old Jade Carey.
Carey, who finished ninth overall in women's qualifying Monday, did not initially make the 24-athlete all-round finals due to International Gymnastics Federation (FIG) rules limiting each country to two competitors. She posted the third-highest score for Team USA, behind Biles and Sunisa Lee.
USA Gymnastics confirmed Wednesday that Carey will fill in for Biles, granting her a chance to win another medal at her first Olympics.
Carey and Lee will represent the U.S. in the individual women's all-around on Thursday, July 29 at 6:50 a.m. ET.
This story uses functionality that may not work in our app. Click here to open the story in your web browser.