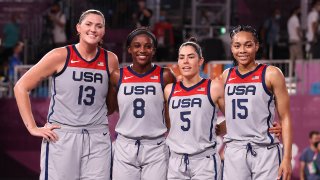 As the sun rose on Day 5 in Tokyo, USA Gymnastics announced that Simone Biles will not compete in the women's gymnastics individual all-around finals.
In other news, women's 3×3 basketball and Katie Ledecky took home historic golds, winning in events contested for the first time ever at the Olympics.
Team USA Wins Historic Gold in 3×3 Women's Basketball
The women's 3×3 basketball team defeated a physical ROC squad in the inaugural Olympic gold medal game in 3×3 women's basketball. The U.S. led through the entire 10 minutes, with the exception of a 1-1 tie, on their way to securing their first-ever gold medal in the event.
Team USA hit eight of 11 free throws, and Stefanie Dolson led the way with seven points and nine rebounds.
Simone Biles Withdraws From Final Women's All-Around Competition
American gymnast Simone Biles, who withdrew from the team final on Tuesday, will not compete in the women's individual all-around final on Thursday, USA Gymnastics announced Wednesday.
"After further medical evaluation, Simone Biles has withdrawn from the final individual all-around competition. We wholeheartedly support Simone's decision and applaud her bravery in prioritizing her well-being. Her courage shows, yet again, why she is a role model for so many," USA Gymnastics said in a statement on Twitter.
Biles may still compete in next week's individual finals, USA Gymnastics said. She will continue to be evaluated daily.
Jade Carey, who put up the ninth-highest score in qualifications, will take her place in the all-around events.
Scroll down to check out other big news from Day 5 in Tokyo:
Karlis Lasmanis Hits Game-Winner as Latvia Men's 3×3 Basketball Wins Gold
Batman saved the day.
Karlis Lasmanis, nicknamed after the Caped Crusader, drained a 2-pointer with 26.7 seconds remaining to give the Latvia men's 3×3 basketball team a 21-18 win over the Russian Olympic Committee and the sport's first gold medal.
The shot completed a thrilling back-and-forth affair, in which Latvia erased an early 9-4 deficit.
ROC's Ilia Karpenkov converted a hook shot off glass with 1:56 remaining for a 17-16 lead. Nauris Miezis responded with a deep 2-pointer to put Latvia up 18-17 with 1:50 to go. Karpenkov evened the score with another hook shot to tie it at 18. Miezis answered again with an uncontested drive to the basket with 1:14 left, putting Latvia two points from gold. That set the stage for Lasmanis' heroics.
Lasmanis finished with 10 points and Miezis added seven.
The loss ended a Cinderella run by a 3-4 ROC team, which eliminated top-seeded and unbeaten Serbia in the semifinals earlier in the day.
Daiki Hashimoto Wins Gymnastics All-Around Gold in Home Country
The men's individual all-around final came down to the wire, but it was Japan's Daiki Hashimoto who finished victorious. The 19-year-old's victory gives Japan its third straight Olympic gold medal in the event, with Kohei Uchimara winning the event in 2012 and 2016.
China's Xiao Ruoteng earned silver and Russian Olympic Committee's Nikita Nagornyy earned bronze. Both gymnasts finished within half a point of Hashimoto's 88.465 total score.
The three competitors, along with China's Sun Wei, took a tightly contested race into the final rotation, the horizontal bar. Hashimoto was the last gymnast to perform his routine and secured gold with a 14.933 score.
For Team USA, Brody Malone finished in 10th place, while Sam Mikulak finished in 12th.
Clarence Cummings Jr. Finishes Ninth in Men's 73kg Weightlifting
Competing in the men's 73kg weightlifting class, United States' Clarence Cummings Jr. finished ninth out of 10 weightlifters.
The four-time World Junior Championship gold medalist lifted the least amount of weight of the 10 weightlifters in the snatch at 145 kg. He followed that up by lifting 180 kg in the clean and jerk. He ended with a total amount of 325 kg lifted.
China's Shi Zhiyong won gold in style, setting a new world record by lifting a total of 364 kg. He set new Olympic records as well, lifting 166 kg in the snatch and 198 in the clean and jerk.
Venezuela's Julio Ruben Mayora Pernia won silver and Indonesia's Rahmat Erwin Adbullah won bronze.
China Defeats France to Capture Bronze Medal in Women's 3×3 Basketball
China defeated France 16-14 to win the bronze medal in women's 3×3 basketball. Lili Wang led China with nine points, including five of the team's first seven.
Wang hit a 2-pointer with 2:24 remaining for a 14-9 lead. After France made it a one-possession game, China's Shuyu Yang and France's Marie-Eve Paget exchanged 2s to make it 16-14 with 1:03 left.
Paget missed a pair of potential tying 2s in the final minute. With China attempting to dribble out the clock, France's Mamignan Toure stripped the ball off China and out of bounds to give possession back to France with 3.0 seconds left. Paget then overthrew a lob to the corner, sealing the win and the bronze medal for China.
Serbia Men's 3×3 Basketball Rebounds From Stunning Early Exit to Win Bronze
Serbia, the top seed which went undefeated in pool play before suffering a semifinal loss to ROC, rebounded by defeating Belgium 21-10 to take the bronze medal in men's 3×3 basketball.
Dusan Domovic Bulut had seven points to lead Serbia, which scored the final five points and sealed the win on a bucket by Mihailo Vasic.
Start Times for Tennis Matches Pushed Back Due to Heat
The International Tennis Federation (ITF) decided to push the start time for tennis matches back to 3 p.m. local time in Tokyo beginning tomorrow. Up until now, matches have been starting at 10 a.m. local time.
The ITF said the decision is "designed to further safeguard player health" due to the extreme Tokyo heat.
ROC athlete Daniil Medvedev, seeded second in the Olympic tournament, beat Italy's Fabio Fognini on Day 5 but not without significant struggles in the heat. When asked by the chair umpire at one point during the match if he could contiune playing, Medvedev responded, "I can finish the match, but I can die. If I die, are you going to be responsible?"
The extreme heat rule has been in effect for matches, which permits players to leave the court for a 10-minute break between sets.
U.S. Fails to Medal in Dressage Individual Grand Prix Freestyle
The U.S. equestrian team's Sabine Schut-Kery and Steffen Peters did not medal in the dressage individual grand prix freestyle.
One day after taking the silver in the dressage team grand prix special, Schute-Kery and Peters finished fifth and 10th respectively. Schute-Kery and her horse Sanceo had a total percentage score of 84.300%. Peters and his horse Suppenkasper finished with a total percentage score of 80.968%.
Germany took the gold and silver, as Jessica von Bredow-Werndl finished first and Isabell Werth was second. Great Britain's Charlotte Dujardin won the bronze.
Men's Gymnastics Individual All-Around Final Underway
Through four rotations of competition, China's Xiao Ruoteng leads the men's gymnastics individual all-around final with a score of 58.633.
China's Sun Wei (58.432) and Russian Olympic Committee's Nikita Nagornyy (58.265) are in second and third place, respectively. Japan's Daiki Hashimoto, who led after each of the first two rotations, is in fourth place with a total score of 58.232.
For Team USA, Sam Mikulak has a score of 56.598, while Brody Malone has a total score of 55.765. Both Americans have completed the pommel horse, rings, vault and parallel bars.
Six American Swimmers Headed to Semis, Women's 4x200m Freestyle Relay Team Advances to Finals
It was another day of dominating the pool for the United States as six Americans and a relay team competed in their respective events.
Abbey Weitzeil advanced to the semifinals in the women's 100m freestyle, finishing in 11th with a time of 53:21. Erica Brown just missed out on advancing, as her time of 53:87 placed her in a tie for 17th.
Both Ryan Murphy and Bryce Mefford advanced to the semifinals in the men's 200m backstroke heats. Mefford impressed in the qualifying heats, with his time of 1:56.37 good for third out of all the swimmers. Murphy finished with a time of 1:56.92, the seventh-fastest time of the heats.
Lilly King and Annie Lazor moved onto the semifinals in the women's 200m breaststroke. King finished second with a new personal record of 2:22.10. Lazor finished second in her heat with King and fifth overall at 2:22.76.
Michael Andrew ended the men's 200m individual medley heats with the best time of any swimmer at 1:56.40. Coming behind in fourth was Chase Kalisz, with a time of 1:57.38, as both Americans will swim in the semifinals.
Finally, rounding the swimming events for today was the women's 4x200m freestyle relay. The U.S. group of Arabella Sims, Paige Madden, Kathryn McLaughlin and Brooke Forde came in second, ending with a time of 7:47.57.
Two Americans Knocked Out in Individual Archery
Jennifer Mucino-Fernandez and Jack Williams were eliminated for the United States in the individual archery events.
After defeating Anastasiia Pavlova of Ukraine 6-4 in the women's Round of 64, Mucino-Fernandez was knocked out by India's Deepika Kumari in the Round of 32. Kumari beat Mucino-Fernandez 6-4 to advance. The two exchanged the first four sets, but Kumari won Set 5 by a score of 26-25 to win.
Williams lost to Pierre Plihon of France in the men's Round of 64. After being down 3-1 after two sets, Williams tied and then won the next set, forcing the Set 5 with the score 4-4. However, Plihon bested Williams by a single point, 28-27, in Set 5 to advance.
U.S. Women's 3×3 Basketball Team to Face ROC in Gold Medal Game
The Russian Olympic Committee defeated China 21-14, advancing to face the United States in the sport's inaugural gold medal game.
ROC never trailed, scoring the first four points of the game. China went on a 4-0 run to even the score at 7-7 with 5:46 remaining. Yulia Kozik answered with a two-pointer and scored four straight points for ROC to take an 11-8 lead. A two by Olga Frolkina with 3:44 remaining highlighted a 4-0 ROC run that opened a 15-9 lead.
Frolkina drained a straightaway 2 for a 21-14 win, sending ROC to the final. Kozik had 10 points and Frolkina had nine for ROC, which on July 25 lost to the United 20-16.
Now the two teams will face off for the sport's first gold medal when they meet on Wednesday at 8:55 a.m. ET.
U.S. 3×3 Women's Basketball Team Advances to Gold Medal Game
The U.S. women's 3×3 basketball team is one victory away from gold.
The team defeated France 18-16 on Wednesday, advancing to the sport's first gold medal game.
Team USA never trailed in the game, taking a 15-12 lead when Kelsey Plum eluded her defender with a hesitation dribble drive and converted the layup with 2:17 remaining. France came back to tie it at 16 with 1:07 remaining on a layup by Laetitia Guapo.
Following an offensive rebound, the U.S. regained the lead on a free throw by Allisha Gray with 34 seconds remaining. In the closing seconds, Gray grabbed another offensive rebound and kicked it out to Plum, who hit one of two free throws with 5.6 seconds left for an 18-16 lead. France's Mamignan Toure then missed a desperation two as time expired.
Plum and Gray had six points each to lead the U.S., which awaits the winner of the semifinal matchup between China and ROC. The gold medal game is scheduled for Wednesday at 8:55 a.m. ET.
USA Rugby Get Sixth Place Finish in Toyko
The U.S. men's rugby team finished in sixth place in the Olympic tournament after falling to South Africa 28-7 in the fifth place game. Carlin Isles scored the U.S. men's lone try of the game.
After the World Rugby Sevens tour was cancelled in 2020 due to the COVID-19 pandemic, the U.S. men's team had a strong showing in Tokyo, finishing with a 3-3 record.
"All we can say is thank you. For waking up in the middle of the night to watch us play, for reaching out on social media through texts to tell us you're routing for us. We felt every bit of it," USA Rugby player Stephen Tomasin said after the game.
Brady Ellison, Mackenzie Brown Advance in Individual Archery
Brady Ellison and Mackenzie Brown punched their tickets to the Round of 16 in the individual archery events. 
Ellison, who came into the tournament with the No. 2 ranking on the men's side, racked up back-to-back 6-0 victories to get him one step closer to the quarterfinals. He first beat Iran's Milad Vaziri Teymoorlooei in the Round of 64 before defeating India's Pravin Jadhav. He will wait and see who his opponent will be for his next match on Saturday. 
Brown, the No. 5 ranked woman in archery, faced Germany's Charline Schwarz in the Round of 64, taking her down in four sets, 6-2. She followed that with a 6-0 win against China's Long Xiaoqing. Her next match will be on Friday against an opponent yet to be determined.
American Casey Kaufhold was eliminated in the women's individual event earlier in the evening. She lost to Japan's Ren Hayakawa in the Round of 32.
Both Jennifer Mucino-Fernandez and Jack Williams are scheduled to compete later today in the first matches of the individual event. Jacob Wukie will get his first crack at the men's individual event on Thursday.
Capobianco and Hixon Win Silver in Men's Synchronised 3m Springboard
The American duo of Andrew Capobianco and Michael Hixon took home the silver medal for the United States in the men's synchronised 3m springboard. 
The two Americans finished with a score of 444.36. The Chinese pair of Wang Zongyuan and Xie Siyi won the gold in the event, scoring 467.82 points.
It is the second medal in the event for Hixon, who won silver in 2016 with then-partner Sam Dorman. It is the first Olympic medal for Capobianco, who is competing in his first Olympics this year.
US Women's Water Polo Falls to Hungary in Third Preliminary Game
The U.S. Women's water polo team suffered its first loss of the Tokyo Olympics in a tightly contested game against Hungary, 10-9.
Hungary's Rebecca Parkes scored three goals including the game clincher with 45 seconds left to put her team up for good.
Maddie Musselman led the U.S. in scoring with three goals and Rachel Fattal was the second-leading scorer with two goals.
Ashleigh Johnson made nine saves on 19 shots.
The U.S. will play the Russian Olympic Committee on Friday, July 30 and has already clinched a spot in the quarterfinal on Aug. 3
U.S. Men's Basketball Team Routs Iran
The United States responded in dominant fashion.
Coming off its first loss since 2004 after falling to France on Sunday, the U.S. returned to form against Iran during a 120-66 win.
The shooting woes that hampered the U.S. against France were non-existent against Iran, as Team USA shot 55.3 percent from the field and connected on 19 threes. Damian Lillard went 7-for-13 from 3 to lead the United States with 21 points.
Kevin Durant had 10 points, five rebounds, five assists, three blocks and two steals. Durant, participating in his third Olympic Games, now sits just six points behind Carmelo Anthony (336 points) as Team U.S.A's all-time leading scorer.
Devin Booker, who was inserted into the starting lineup over Zach LaVine, added 16 points as six U.S. players finished in double figures.
Team USA Beats Tunisia in Men's Indoor Volleyball
The United States men's indoor volleyball team beat Tunisia in four sets early Wednesday morning. The U.S. lost the second set after taking the first, but were able to seal the win in the next two frames.
Team USA is now 2-1 in pool play, and will face Brazil on July 29 at 10:05 p.m. ET.
Team USA Didn't Medal in Men's 4x200m Freestyle Relay Final
The United States men's 4x200m freestyle relay team did not reach the podium in the final late Tuesday night. The lineup of Kieran Smith, Drew Kibler, Zach Apple and Townley Haas was in a tight race for the bronze medal, but came up short and finished in fourth place.
Great Britain's relay team earned the gold medal. The Russian Olympic Committee and Australia came in second and third for the silver and bronze medals, respectively.
This is the first time in history the United States has failed to make an Olympic swimming relay podium.
Katie Ledecky Wins Gold Medal in Inaugural 1500m Freestyle Final
Katie Ledecky has become the first ever women's 1500m freestyle Olympic gold medal winner. Ledecky finished with a time of 15:37.34.
Fellow American Erica Sullivan finished with the silver medal in second and German Sarah Köhler came in third to earn a bronze.
Alex Walsh, Kate Douglass Win Silver, Bronze in Women's 200m Individual Medley
Team USA took home the silver and bronze medals in the women's 200m individual medley final on Tuesday night.
Alex Walsh came in second for the silver medal and Kate Douglass came in third to earn a bronze. The Americans finished behind gold medal winner Yui Ohashi from Japan.
Michael Phelps on Simone Biles: 'It broke my heart'
Michael Phelps, who has openly discussed his own mental health struggles, weighed in on Simone Biles' decision to withdraw from the women's gymnastics team final on Tuesday morning.
"Physically, I feel good," Biles explained after her withdrawal. "Emotionally it varies on the time and moment. Coming to the Olympics and being head star isn't an easy feat."
Phelps understands where Biles is coming from, calling the Olympics "overwhelming" on NBC's Primetime Coverage.
"We're human beings. Nobody is perfect. It's OK to not be OK. It's OK to go through ups and downs and emotional rollercoasters. The biggest thing is, we all need to ask for help when we go through those times … It was hard for me to ask for help," Phelps added.
Kristof Milak Breaks Michael Phelps' Olympic Record in 200m Butterfly
Hungary's Kristof Milak broke Michael Phelps' 200m butterfly Olympic record Tuesday night, winning gold with a time of 1:51.25.
Phelps set the previous Olympic record in 2008 with a time of 1:52.03.
Japan's Tomoru Honda won silver and Italy's Federico Burdisso claimed bronze.
American Gunnar Bentz finished seventh with a time of 1:55.46.
Australia Women's Four Rowing Team Sets Olympic Record
The Australian women's four rowing team earned a gold medal on Tuesday and set an Olympic record while doing so.
The boat — made up of Jess Morrison, Annabelle McIntyre, Rosie Popa and Lucy Stephan — finished with a record time of 6:15.37.
Ledecky Doesn't Medal, Australia's Titmus Sets Olympic Record in Women's 200m Freestyle Final
Katie Ledecky did not medal in the 200m freestyle final on Tuesday night. Ledecky was looking to defend the gold medal she earned in Rio.
Australia's Ariarne Titmus set an Olympic record to earn a gold medal.
Hong Kong's Siobhan Bernadette Haughey finished in second for the silver medal and Canada's Penny Oleksiak came in third to earn a bronze.
Ledecky will swim in the inaugural 1500m freestyle final just about an hour after she finished the 200m freestyle. Ledecky set an Olympic record in the 1500m heats with a 15:35.35 time.
USA Rugby to Play for Fifth Place
The United States men's rugby team will compete for fifth place after beating Canada 21-14 on Tuesday night.
They will play against the winner of South Africa vs. Australia at 4 a.m. ET on Wednesday, July 28.
Dressel Not In Lineup for 4x200m Freestyle Relay Team Final
Caeleb Dressel will not join Team USA for the men's 4x200m freestyle relay final on Tuesday night. The quartet that will compete for the U.S. will be made up of Kieran Smith, Drew Kibler, Zach Apple and Townley Haas.
The race is set for 11:26 p.m. ET.
Gibb, Bourne Remain Undefeated in Pool Play
Jake Gibb and Tri Bourne are now 2-0 in pool play after beating Switzerland's Mirco Gerson and Adrian Heidrich in straight sets. Team USA won the first set 21-19 and the second 23-21.
This was just the second match that Gibb and Bourne have played together after Gibb's original partner, Taylor Crabb, tested positive for COVID-19 before competition began.
Gibb and Bourne started the tournament with a two-set win over Italy's Enrico Rossi and Adrian Ignacio Carambula Raurich. They will face Qatar's Cherif Younousse and Ahmed Tijan at 9 a.m. ET on July 30.
Katie Ledecky Could Break More Records
After earning silver in the women's 400m freestyle, Katie Ledecky will have the chance to come away with two more Olympic medals.
On Tuesday, she will be racing in the women's 200m freestyle and women's 1500m freestyle with just a little over an hour in between races. She had the top times in qualifying for both events, even setting an Olympic record in the inaugural 1500m heats.
Ledecky will aim to be the first women's 1500m freestyle champion, and has the potential to break Jenny Thompson (8) and Larisa Latynina's (9) gold medal records.
Team USA's Medal Count Stands at 25
Heading into Day 5 of the Tokyo Olympics, the United States has 25 total medals — nine gold medals, eight silver and eight bronze medals.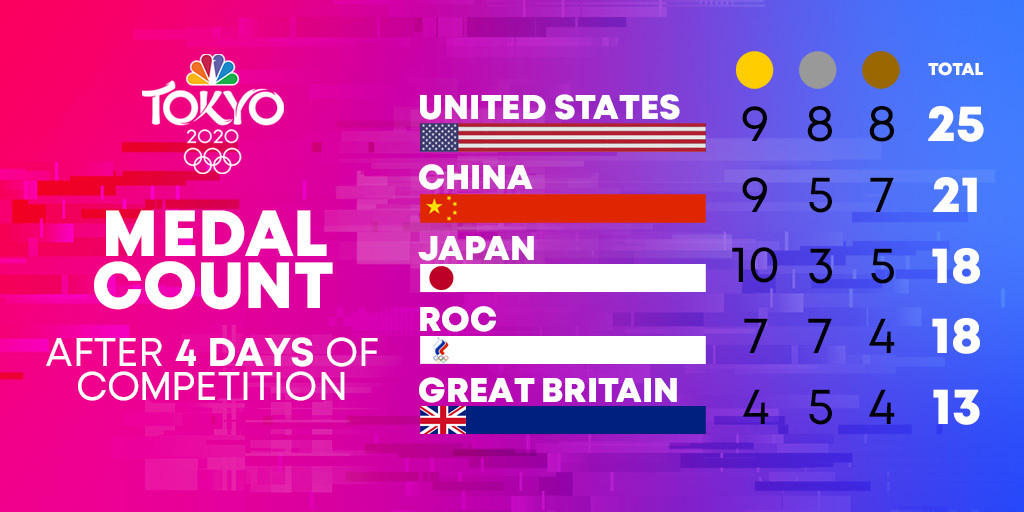 Team USA has the chance to add to its medal count pretty quickly in the fifth day of the 2020 Games. Team USA will have multiple chances to stand atop the Olympic podium with several swimming finals beginning at 9:30 p.m. ET.
Baseball to Return to Olympics for First Time Since 2008
After becoming a mainstay at the Games for a few years, baseball was voted out by the IOC following the 2008 Beijing Olympics. But on Tuesday night, America's pastime will finally make its return to the Games in 2021.
Six countries, including the United States, will compete over a 12-day period in the baseball competition. The first game of the tournament is set to begin at 11 p.m. ET between the Dominican Republic and host country Japan.
Team USA will play its first game against Israel on Friday at 6 a.m. ET.
This story uses functionality that may not work in our app. Click here to open the story in your web browser.