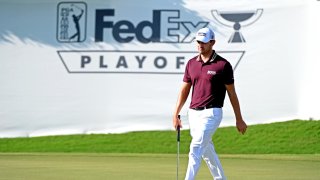 Patrick Cantlay remains in the lead of the PGA Tour Championship and is now just 18 holes away from securing the $15 million FedExCup title. He shot 3-under on Saturday for a total score of 20-under. Jon Rahm is in striking distance as he has been all tournament, finishing at 18-under to set up a close final day between the two.
Justin Thomas shot 5-under to move into third place (-15), followed by Kevin Na (-13). Bryson DeChambeau had five bogeys to fall into a tie for seventh (-9), while Brooks Koepka had to withdraw after the 12th hole due to a wrist injury.
Who will come out on top on Sunday? Here's everything you need to know
When is the 2021 Tour Championship?
The Tour Championship starts on Thursday, Sept. 2 and will run for four days, concluding on Sunday, Sept. 5. 
How can I watch the 2021 Tour Championship?
All four rounds of the Tour Championship will be aired either on the Golf Channel or NBC Sports. The event can also be streamed on either the Golf Channel or Peacock. 
For Sunday's Round 4, the Golf Channel has coverage from 12 to 1:30 p.m. ET, followed by coverage on NBC until 6 p.m. ET.
Who is competing at the 2021 Tour Championship?
At the end of the BMW Championship, the golfers in the top 30 of the FedEx Cup standings got to move onto the final tournament.
Sitting at the top of the leaderboard is the aforementioned Cantlay. The Northern Trust winner Tony Finau finished in second, while DeChambeau moved up to third. DeChambeau was the only member not previously in the top five heading into the BMW Championship who now has a top-five spot, with Justin Thomas sliding from No. 5 to No. 6. 
There was not much turnover in the top 30 spots who moved on to the Tour Championship. In fact, there were only two changes -- Erik van Rooyen jumped from No. 48 to No. 27 and Sergio Garcia went from No. 44 to No. 28. Charley Hoffman and Max Homa are the two golfers who were bumped out.  
Dustin Johnson looks to retain his title as FedEx Cup champion after winning last year. Other previous winners going for another championship are Rory McIlroy (2016 and 2019), Xander Schauffele (2017), Jordan Spieth (2015) and Billy Horschel (2014). 
Here are the 30 golfers competing for the FedEx Cup title:
Patrick Cantlay
Tony Finau
Bryson DeChambeau
Jon Rahm
Cameron Smith
Justin Thomas
Harris English
Abraham Ancer
Jordan Spieth
Sam Burns
Collin Morikawa
Sungjae Im
Viktor Hovlund
Louis Oosthuizen
Dustin Johnson
Rory McIlroy
Xander Schauffele
Jason Kokrak
Kevin Na
Brooks Koepka
Corey Conners
Hideki Matsuyama
Stewart Cink
Joaquin Niemann
Scottie Scheffler
Daniel Berger
Eric van Rooyen
Sergio Garcia
Billy Horschel
Patrick Reed
What are the handicaps at the 2021 Tour Championship?
No more points will be awarded towards the FedEx Cup standings. Instead, those points totals at the end of last week will translate over into handicaps given to each golfer for the Tour Championship, and the winner of this tournament is crowned the champion. 
Depending on where the golfers finished in the standings, they will get to start the Tour Championship with a decreased score. For example, Cantlay, who finished at the top of the FedEx Cup standings, gets an automatic score of 10-under at the beginning of play on Thursday. Finau, who finished in second, is given a score of 8-under, third-place DeChambeau has 7-under, and so on it goes. 
Here is the full handicap system. 
No. 1: 10-under
No. 2: 8-under
No. 3: 7-under
No. 4: 6-under
No. 5: 5-under
Nos. 6-10: 4-under
Nos. 11-15: 3-under
Nos. 16-20: 2-under
Nos. 21-25: 1-under
Nos. 26-30: Even
What are the 2021 Tour Championship pairs and tee times?
Here are some of the most notable pairs and tee times for Round 4 on Sunday. 
1:05 p.m. ET: Jordan Spieth and Louis Oosthuizen
1:15 p.m. ET: Dustin Johnson and Xander Schauffele
1:25 p.m. ET: Victor Hovland and Bryson DeChambeau
1:35 p.m. ET: Abraham Ancer and Billy Horschel
1:45 p.m. ET: Justin Thomas and Kevin Na
1:55 p.m. ET: Patrick Cantlay and Jon Rahm
You can find all of the tee times here.
Who is the favorite to win the 2021 Tour Championship?
After having been the second favorite despite leading the tournament throughout, Cantlay is finally favored to win the championship at -125, according to our partner, PointsBet. The previous betting favorite, Rahm, is at +140.
Here is a look at the favorites to win the Tour Championship:
Patrick Cantlay, -125
Jon Rahm, +140
Justin Thomas, +900
Kevin Na, +15000
Editor's note: All odds are provided by our partner, PointsBet. PointsBet is our Official Sports Betting Partner and we may receive compensation if you place a bet on PointsBet for the first time after clicking our links.