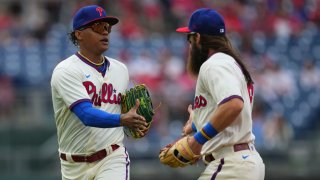 WILLIAMSPORT, Pa. — The Phillies got one of their center fielders back in time for their matchup with the Nationals in Sunday night's Little League Classic.
Brandon Marsh hit seventh in his return from a knee injury that cost him a dozen games.
The Phillies were permitted to add an extra man for Sunday's game as they would in a doubleheader, so there was no corresponding roster move. That will come before Monday's game, with Weston Wilson seeming to be the likeliest player to option to Triple A.
Marsh may still feel the lingering effect of his bone bruise for a few days but manager Rob Thomson expects him to be ready to roll.
Fellow center fielder Cristian Pache is on a rehab assignment for his elbow but has missed Lehigh Valley's last two games with hip tightness. The Phillies are gathering information about the injury before deciding whether to pause his rehab assignment.
Pache played in nine games, five in center field, before the injury. He went 9-for-36 (.250) with seven walks.
It is unclear what might happen if/when Pache returns to the big-league roster, but Johan Rojas' job is safe for now.
Pitching updates
Taijuan Walker, skipped this week in the Phillies' rotation, will start Tuesday at home against the Giants.
The Phillies' rotation for the week will be Aaron Nola Monday, Walker Tuesday, Michael Lorenzen Wednesday, Cristopher Sanchez Friday, Zack Wheeler Saturday and Nola again Sunday.
Left-handed reliever Jose Alvarado will also return Tuesday after missing six weeks with left elbow inflammation.