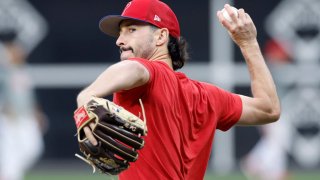 The Phillies agreed to 2024 contracts ranging from $850,000 to $1 million with backup catcher Garrett Stubbs, reserve outfielder Jake Cave and long reliever Dylan Covey ahead of Friday's non-tender deadline.
Teams had until 8 p.m. Friday to decide what to do with their players under club control — those on the 40-man roster who haven't earned enough MLB service time to reach free agency.
The ones who didn't receive contracts were "non-tendered," becoming free agents and adding to the pool of available players. Notable non-tenders leaguewide included Brandon Woodruff, Rowdy Tellez, Dakota Hudson, Nick Senzel and Daniel Vogelbach.
The Phillies' only non-tender was left-handed pitcher Josh Fleming, who was claimed off waivers from the Tampa Bay Rays two weeks ago.
The Phils tendered contracts to Alec Bohm, Jeff Hoffman, Edmundo Sosa, Gregory Soto and Ranger Suarez, all five of whom are eligible for salary arbitration.
This is the final arbitration year for Hoffman, who is set for free agency after 2024. Suarez, Soto and Cave have two years left. Next year will be the first for Bryson Stott, Brandon Marsh and Cristian Pache.
Teams must exchange salary figures with arbitration-eligible players by January 12. The sides can avoid arbitration and frequently do by reaching an agreement at any point prior.
Hearings take place from January 29 through February 16 for eligible players who have not reached a contract with their teams, with an arbiter either ruling in favor of the player or team.