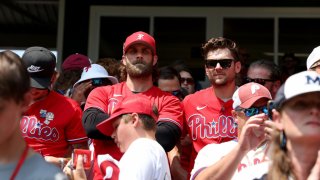 WILLIAMSPORT, Pa. — The Phillies arrived at the Little League World Series Complex around noon Sunday, in time to see the final two innings of the Media, Pa. team's game against Rhode Island.
They were like rock stars walking through the bleachers to find their place to sit in the Media fan section, getting a chance to watch the team come back to tie the game in the fifth inning.
Unfortunately, that was where things turned for Media in a 7-2 loss that eliminated them from the tournament.
So ended the first-ever Little League World Series run by any team from Delaware County.
"It was really an unbelievable experience to see the energy, the amount of people that were there," manager Rob Thomson said two hours before the Phillies took on the Nationals at Muncy Bank Ballpark for MLB's annual Little League Classic.
The announced attendance for Media vs. Rhode Island was 23,066.
"Imagine being a 10- or 11-year-old playing in front of that many people," Thomson said. "The great thing about it for me was I never heard one parent yell at an umpire, yell at another kid. Everything was all supportive, everyone was very well-behaved. I think Little League Baseball has done a great job to prepare and set the standard for the parents of what's expected and if you can't do that, you're not part of this deal."
Local ties went beyond the Media team. The Henderson All-Stars from just outside Las Vegas are in Williamsport and won the day before the Phillies arrived. Bryce Harper, a Vegas native, spoke to the kids Sunday.
Little League teams assembled in the first few rows behind home plate and the baselines looked to be in heaven watching big-leaguers come up and down the dugout steps during batting practice Sunday evening. Brandon Marsh, who is hard to miss, was particularly popular autograph target.
The Phillies have traveled to Toronto, Washington D.C. and Williamsport this week and are very much in the dog days of summer. Despite the hectic week of travel, the atmosphere Sunday provided a nice recharge for the big-leaguers.
"I think they really appreciate it, to tell you the truth," Thomson said. "Just the energy that they get from the kids and I think it takes them back to their past when they were that age, how excited they were to play the game. I'm sure some of them were like me that when they had a game that night, you wake up and you put your spikes on and walk around all day, maybe put your uniform on extra early. That's what being a kid's all about."