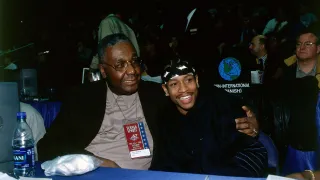 Allen Iverson thanked a wide range of people during his 2016 Basketball Hall of Fame enshrinement speech, from rappers to friends to former coaches.
His comments about John Thompson, who died Sunday night at 78 years old, were especially meaningful.
"I want to thank Coach Thompson … for saving my life," he said of Thompson, one of his Hall of Fame presenters along with Larry Brown and Julius Erving. "For giving me the opportunity. I was recruited by every school in the country for football and basketball. The incident happened in high school and all that was taken away. No other teams, no other schools were recruiting me anymore.
"My mom went to Georgetown and begged him to give me a chance, and he did. And that's crazy to think that you're the best football player in the world — which I did — and to be sitting up here as a Hall of Famer in basketball. You tell me God ain't good."
Iverson spent four months in prison after being convicted of "maiming by mob" following a fight at a bowling alley that he said began when someone called him a racial slur. He was eventually granted conditional clemency by Virginia Gov. Douglas Wilder.  
Thompson, the first Black coach to win the NCAA title, coached Iverson for two seasons before the "6-foot guard out of Georgetown" departed for the NBA. 
In a 2018 Players' Tribune piece, Iverson remembered when he "found out Coach Thompson was no one to mess with." He recalled a game at Villanova where four men were wearing handcuffs and orange jumpsuits, holding up a sign that read Allen Iverson: The Next MJ, with "MJ" crossed out and replaced by "OJ." 
"Here's what Coach Thompson, MY coach, did for me on that night: He didn't ask for their sign to be confiscated," Iverson wrote. "He didn't yell and shout and make a scene. No. See, what Coach did is he calmly walked over to us, player by player, and told us that — don't worry about our things — we were leaving the floor. That's it: We were leaving the floor. No big drama. Heads held high. We were there…. and then we were gone.
"And then once we were off that floor, and it was just Coach back on the court? He calmly told those refs, he said, 'Hey, no disrespect. No disrespect to y'all. But here's what's going to happen: If you don't get those four pieces of sh*t outta here, and I'm talking immediately — we're gonna be forfeiting this game. Understood?'
"They understood, man."
Thompson was a guiding influence for hundreds of players during his time at Georgetown, including former Sixer and Hall of Famer Dikembe Mutombo.
https://www.instagram.com/p/CEjmB0qDWDf
Iverson posted a tribute on social media Monday morning to his former coach and mentor.
https://www.instagram.com/p/CEjjpEGjrhA