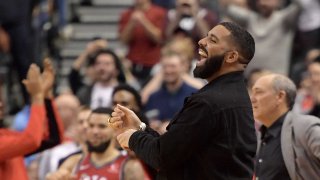 After nine months, one knee surgery and dozens of billboards across the country, Drake finally dropped his sixth studio album, "Certified Lover Boy," at 2 a.m. ET on Friday.
The 21-track album brings together Jay-Z, Travis Scott, Nicki Minaj and more star-studded collaborations. Some of the biggest names on "Certified Lover Boy" are featured in the lyrics, though.
Drake has name-dropped athletes throughout his career. From Johnny Manziel to Kevin Durant, the Canadian rapper has brought sports into his music. He continued that trend with some Hall of Fame mentions -- and a hysterical music video cameo -- on his latest release.
Here are the top athletes to appear on Drake's newest album:
Tiger Woods, "In The Bible"
"Think I'm Tiger Woods, the way I'm teed off thе 17"
Hey Augusta,
The five-time Masters champion is on CLB.
As far as the lyric, someone must have really gotten Drake worked up for him to be teed off like Woods.
When it comes to the 17th hole, Woods' most iconic moment came on the green, not the tee box. He sank his "Better than most" putt on the famous 17th hole at TPC Sawgrass to win the 2001 Players Championship.
Sha'Carri Richardson, "No Friends In The Industry"
"And I'm like Sha'Carri, smoke 'em on and off the track"
Hey Dallas,
One of the fastest women in the world is on CLB.
Probably a little too soon for this one, Drake.
Sha'Carri Richardson won the women's 100m at the U.S. Olympic Trials, but she was barred from racing in the event at the Tokyo Olympics. She accepted a 30-day suspension in early July after testing positive for a chemical found in marijuana shortly following the death of her biological mother. She was then left off Team USA's Olympic roster despite her suspension being lifted before the women's relay in Tokyo.
Richardson finished in ninth place in the women's 100m at the Prefontaine Classic on Aug. 21, her first race since her suspension. She remained undeterred after the result, though.
"Count me out if you want to," Richardson said following the event. "Talk all the s*** you want. Cause I'm here to stay. I'm not done." 
Giannis Antetokoumpo, "7AM On Bridle Path"
"Could at least keep it a buck like Antetokounmpo"
Hey Milwaukee,
The Finals MVP is on CLB.
With Drake and Giannis Antetokuonmpo collaborating on merch for the album, it's no surprise there was a name-drop, too. 
It's also a fitting lyric since Giannis most certainly kept things a buck in Milwaukee. He signed a five-year, $228 million extension with the franchise in December after speculation grew that he would skip town following the 2020-21 season. He wasted no time proving it as the right move, leading the team to its first NBA title in 50 years.
Giannis' brother and teammate, Thanasis, can also claim this mention as his own since Drake does not specify which Antetokounmpo he is talking about.
LeBron James, "7AM On Bridle Path"
"Up in Bron crib, fishbowl wine glasses"
Hey L.A.,
The King is on CLB.
The Greek Freak wasn't the only NBA star to get a shoutout on "7AM On Bridle Path."
Like Carmelo Anthony and C.J. McCollum, LeBron has been known to enjoy some vino, so it's no surprise that's the drink of choice when you visit the James residence.
This isn't LeBron's first mention on a Drake song. The four-time NBA champion is also brought up on "Nonstop" and "Tim Westwood Freestyle," and Drake's "Forever" was written for the James documentary, "More Than A Game." 
Rafael Nadal, "You Only Live Twice"
"Yeah, two-point-two for the Rafael Nadal"
Hey Spain,
The 20-time Grand Slam winner is on CLB.
Drake shouted out the famed tennis player in his opening line on "You Only Live Twice," a song featuring longtime collaborators Rick Ross and Lil Wayne.
This lyric is in reference to some expensive wristwear. Nadal has been a partner with luxury watch company Richard Mille for over a decade, even sporting a $1.05 million RM 27-04 at the French Open. Drake later posted himself wearing the watch and tagged Nadal.
With songs like "7AM On Bridle Path," "5AM In Toronto" and "6PM In New York," Drake definitely needs something to keep track of time.
Kawhi Leonard, "The Remorse"
"Can't picture bein' a hubby, finger too stubby to fit a ring on
Unless Kawhi wanna run it back"
Hey Toronto,
A fun guy is on CLB.
An ice-cold closer on the court, Kawhi Leonard fittingly got name-dropped on the album's final song. 
Leonard provided Toronto one of its greatest sports moments ever by leading the team to an NBA championship in 2019. His most memorable shot came when he sent Scotiabank Arena into a frenzy with an unbelievable Game 7 buzzer-beater in the second round against the Philadelphia 76ers.
On top of the mention in "The Remorse," Drake also brought in Leonard for a truly incredible appearance in the "Way 2 Sexy" music video.
If Leonard is going to run it back in the Six -- and help Drake get that second championship ring -- it won't be for a while. The All-Star forward re-signed with the Los Angeles Clippers on a four-year, $176.3 million deal this offseason. He won't play for most of, if not all of, the 2021-22 season after undergoing surgery on a partially torn ACL in July.