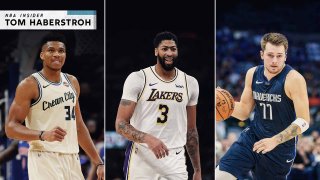 End of Decade: Poole's favorite Warriors memories | Ham on Kings' defining decade | Blakely breaks down top Celtics trades | Johnson names Bulls all-decade team | Hudrick reveals Sixers all-decade team | Hughes sets Wizards all-decade team
The end of the 2010s is here, which means you've probably spent more quality time with All-Decade teams than with your family this holiday season. But here at NBC Sports, we're also about figuring out what's next.
In the basketball world in particular, it's never too early to look into the future. High schoolers Bronny James and Zaire Wade are playing on national TV and hoops prodigy Emoni Bates made the cover of Sports Illustrated at the age of 15. 
In that spirit, here's my shot at the All-Decade team of the 2020s. I'm following the format of the All-NBA selections, which picks the five best players to its three teams regardless of position. 
Remember, 10 years is a long time, so age and a clean bill of health will matter a great deal for this list. Chronic and degenerative injuries will keep some household names off this list (sorry, Clippers fans). Ten years from now, we can all laugh at this list, just like Nostradamus was giggling at everyone in 2009 for leaving Giannis Antetokounmpo and Anthony Davis off their future All-2010 teams.
Let's grab the crystal ball, shake it and see what comes up.
All-2020 First Team
Luka Doncic
To me, Doncic has the best shot to be the MVP of the next decade. He still can't legally buy an alcoholic beverage in America and he's a nightly threat for 40 points, 10 rebounds and 10 assists. He's already hit that mark twice this season. As a 6-foot-7 point guard, Doncic has the size and the skill to dominate the game regardless of how it changes over the next decade.
Doncic doesn't seem close to his ceiling either -- what 20-year-old basketball player is? If he gets in better shape and tightens his on-ball defense, there will be no holes in his game. By some advanced measures, he's already playing at a level that would make this season the best age-20, age-21 or age-22 season ever. Did I mention that he's only 20? 
Trae Young
The Atlanta Hawks are barely putting an NBA roster on the floor every night and the just-turned-21 point guard is still averaging an efficient 28.3 points per game and ranks third in assists. Young's shot-making and playmaking abilities are insane for a player this, well, young. Don't put the Hawks' record on him. Put some All-Star caliber players around Young and he'll be a mainstay in the MVP conversation. 
Young is a modern-day blend between Stephen Curry and Steve Nash. While it took both of those all-timers some time to break their respective molds, Young is custom-built for this era of basketball. His deadly combination of nasty handles, LeBron-esque court vision and parking-lot range warps the court and mitigates his diminutive size. The Logo 3 flamethrower has made 38 percent of his 3-pointers this season from 28 feet and beyond. If the NBA adds a 4-point line, game over.
Anthony Davis
Davis didn't need to go to Los Angeles to find his name on this list, but the Lakers' hot start certainly doesn't hurt his case. The 26-year-old already has six All-Star appearances, three All-NBA selections and could be on his way to his first MVP. Just entering his prime, the Brow holds the best chance to be on the All-Decade squads for both the 2010s and 2020s. 
Like all great players, Davis' ability to play on the brightest stage will determine where he lands on these lists. I have no concerns in that department. He won a championship in his lone season at Kentucky and has put up monster numbers (try 30.5 points and 12.7 rebounds) in his 13 career playoff games.
Giannis Antetokounmpo
What happens if Antetokounmpo adds a reliable 3-point shot? Do we just pack the ball and go home? He just helped the Milwaukee Bucks rattle off an 18-game win streak with his co-star, Khris Middleton, mostly sidelined by an injury. I'd put the Greek Freak ahead of Doncic on this list, but the Slovenian phenom is five birthday cakes away from Antetokounmpo's age of 25. 
Helping Antetokounmpo's case is his durability. Antetokounmpo has never missed more than 10 games in any of his six full seasons, a feat which Davis has only done twice and Joel Embiid has yet to complete. It's also worth noting that Antetokounmpo has made 16 3-pointers this month on 41-percent shooting, which feels like something we'll look back on 10 years from now and point to as the moment where it all began.
Joel Embiid
You might not think that Embiid deserves a spot on the first team, but I'd counter with this: He started playing basketball literally a decade ago. Now, the 25-year-old is averaging 24.1 points and 11.6 rebounds for his NBA career and is positioned to be a perennial MVP candidate for years to come.
No one has a larger "if healthy" disclaimer than Embiid on this list. If he can keep his conditioning issues and injuries to a minimum, there's no ceiling on Embiid's career. Like Davis and Antetokounmpo, Embiid has the size and talent to dominate both ends of the floor on any given night -- or decade.
All-2020 Second Team
Stephen Curry
Curry's the best shooter ever in my book and that skill alone will keep him in the league a very, very long time. Reggie Miller played until he was 39 years old. Ray Allen was a month away from his 39th birthday when he started in the 2014 Finals. Nash, Vince Carter and Jason Terry -- all great shooters, all played into their 40s. 
I'm not worried about Curry's ability to age gracefully. Curry will miss most of the season with an injury to his non-shooting hand, but that time off will give his well-worn wheels a break and save those extra miles for the long haul. As the 3-point shot becomes more and more essential to the game of basketball, Curry has the goods to play at a high-level deep into his 30s like the great shooters of previous generations.
Bradley Beal
Front offices around the league collectively sighed when the Wizards signed Beal to a two-year extension this summer, thereby removing his trade eligibility for the season. What they see is what the Wizards see: a franchise pillar who's just coming into his own. 
Beal turned 26 years old over the summer and is one of three players averaging at least 27 points, 7.0 assists and 4.5 rebounds this season (minimum 500 minutes played). The Wizards' turbocharged pace has inflated his per-game stats a tad, but there's no denying that Beal is one of the best young guards in the game. He has the talent and work ethic to become the next James Harden.
Jayson Tatum
Tatum's 2018 playoff run as a 20-year-old is already the stuff of Celtics legend. After a disappointing follow-up campaign in 2018-19, Tatum roared back to re-establish himself as a force to be reckoned with, averaging over 20 points per game as a 21-year-old for one of the league's best teams.
If you doubted Tatum's on-court impact, consider that the Celtics are plus-221 this season with him on the court and a dreadful minus-53 with him on the bench. That jarring scoreboard swing has Tatum's name near the top of ESPN's value leaderboard this season. Drawing more whistles is the only thing keeping Tatum from being among the league's top scorers. It'll come in time.
Ben Simmons
See where Antetokounmpo is now? Simmons can reach those heights if he rounds out his game. A nightly triple-double threat, Simmons can also defend the opposing team's best scorer, which is not something you can say about a lot of young stars.
As I wrote this summer when he signed a max contract, Simmons' defensive versatility is what sets him apart from most triple-double threats. Because of his knack for that side of the ball, my concern about his lack of a 3-point shot is more muted than some of my peers. That he's already this good without a go-to jumper is even more reason to put him on this list. He's not even close to his ceiling. At 23 years old, that's more than fine.
Karl-Anthony Towns
Two years ago, Towns was recognized by NBA general managers as the player to build around. While guys like Antetokounmpo and Doncic have stolen that seat from him, Towns is still a ridiculous talent. He has more 3-pointers than Beal, more rebounds than Davis and more assists than Donovan Mitchell. 
Though he's younger than Embiid and Antetokounmpo, I can't put KAT above them until the big fella shows more fight on the defensive side of the ball. After turning 24 years old in December, the Kentucky product still has plenty of room to grow on that end of the floor. If he becomes an all-world defender, he could be the best player of the 2020s, period.
All-2020 Third Team
LeBron James
I nearly left him off this list entirely for the simple fact that he's turning 35 years old later this month. I kept comparing him to Jordan, who retired -- for the second time -- at the age of 35. I thought about the similarly-skilled Larry Bird, who also hung it up at 35 because his body broke down.
And then I came to my senses. LeBron has shown little to no signs of aging. He leads the league in assists. He sits atop ESPN's value metric that estimates on-court impact. Any player, no matter what age, that is averaging 26.1 points, 10.7 assists, 7.3 rebounds and shoots over 50 percent from the floor, has to be on the All-Decade list. Come to think of it, he has a good chance to be on the All-Decade list for three separate decades. Do that and the greatest of all-time throne will be his, if it isn't already.
James Harden
Even if Harden isn't able to sustain a near-40-point-per-game scoring pace, he's still going down as one of the greatest scorers ever. He is on target to finish with his third scoring title in a row. That's after he led the league in assists in 2016-17. 
Even though his scoring average has increased in each of the last six seasons, there is real concern here that he'll wear down at some point. At 30 years old, he's once again leading the league in minutes, which, if it continues, will be the third time he's done that. Then again, he came off the bench for the first three seasons of his career. Maybe he has more left in the tank than we think.
Paul George
You could make an argument for Kawhi Leonard here, but his mysterious knee issues have me worried about his long-term prospects. George has come all the way back from his gruesome broken leg suffered in 2014 and owns one of the silkiest and deadliest 3-point shots in the game. That should keep him playing at a high level for several years, as long as his body holds up.
A two-way star, George has such a versatile game that I don't have issues about his aging process compared to other players with his bill of health. Worries about how his shoulders still exist, but his performance this season without preseason or training camp has quelled those concerns a great deal. George is 29 years old but it feels like he's just entering his prime years.
Zion Williamson
If it weren't for the torn meniscus in October, I might have had him on the first team. He was that spectacular in preseason for the New Orleans Pelicans. Alas, a second knee issue on that enormous frame in the past year has to put a dent in his sky-high potential.
For me, there's no question about his abilities. He averaged 30.8 points, 8.0 rebounds and 3.0 assists per 36 minutes in the preseason as a teenager. It all comes down to his health and what his body can handle on a nightly basis. There's a short list of players who could reasonably be the best player of the 2020s and he's on it.
Nikola Jokic
This is why you scout overseas. The Serbian big man has quickly established himself as one of the best players in the league after falling to the 41st overall pick in the 2014 draft. The 7-foot magician is leading the Denver Nuggets in assists for the third straight season and may be the closest thing we've seen to Arvydas Sabonis.
I'd be more concerned about his doughy physique if he wasn't so remarkably effective with his grounded game. The 24-year-old is a triple-double threat every time he takes the floor despite having the vertical leap of a wet sandbag. He'll be an MVP one day as long as he adds rim protection to his near-complete portfolio of NBA skills.
Follow me on Twitter (@TomHaberstroh), and bookmark NBCSports.com/Haberstroh for my latest stories and videos and subscribe to the Habershow podcast.