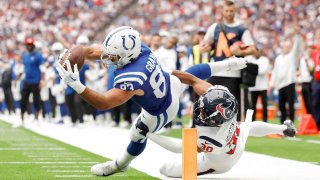 An NFL player's first touchdown is a memorable moment, and what better way to capture a memorable moment than a photoshoot?
Indianapolis Colts tight end Kylen Granson achieved the feat when he caught a pass from Gardner Minshew late in the first half of the team's 31-20 win over the Houston Texans.
The third-year player didn't get to celebrate right away on the field since he was originally marked short of the endzone. The officials soon overturned the call and gave Granson his first touchdown, and he found a hilarious way to commemorate the milestone off the field.
Granson shared a "newborn" photoshoot on Instagram with the touchdown ball instead of an infant.
Check it out for yourself:
Granson's teammates showered him with "love" in the comments.
The Colts selected Granson in the fourth round of the 2021 NFL Draft. He has 49 catches for 463 receiving yards -- and the one touchdown -- in his career thus far.