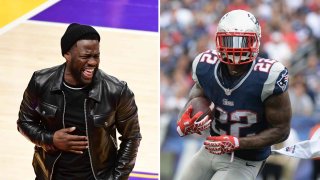 Running the 40 in your 40s is tough. Just ask Kevin Hart.
The comedian said he is in a wheelchair after trying to race his friend and former New England Patriots running back Stevan Ridley.
"I got to be the dumbest man alive!!!!!" Hart captioned the Instagram video in which he shared his injury news. "What the f*** am I doing???? I blew my s***....I'm done. FML."
Hart said a debate about who was faster between himself and Ridley sparked the race. The 44-year-old said he considers himself fast and thought he had a chance against the 34-year-old Super Bowl champion.
Instead, he landed on IR and in a wheelchair.
As part of his PSA, Hart said not to let the likes of Tom Brady fool you: being 40 years old is no joke.
"Ladies and gentlemen, the age 40 is real," he said in the video. "To all my men and women out there that are 40 years old and above: it's not a game. Respect that age."