Through three games, Eagles first-round pick Nolan Smith has played an average of just 6.3 defensive snaps per game.
Expect that to increase as his rookie season continues.
"His reps count will go up and will go up as we go," Eagles defensive coordinator Sean Desai offered on Thursday, "and we will be diligent to do that."
Desai was asked what Smith could do to earn more snaps but he explained that it's not anything that Smith is or isn't doing that has determined his snap count so far. Some of it is simply out of Smith's control.
"I think there is a function of a lot of things," Desai said. "He's doing a great job. I don't know if he has to do more. I got to try to get some packages where we get him out there a little bit more and it fits into our rotational plan.
"It's part of the send in the waves people. He is part of that. A game like last time where the offense did an outstanding job. I'll take that any time of the week, of where they are on the field the whole fourth quarter pretty much.
"It limits the number of plays then. We only had 47 snaps in the game, so it throws your whole rotation off. There's going to be games like that. He'll tell you if the offense wants to hold the ball for that long, we'll take it."
While Smith's Georgia teammate and No. 9 overall pick Jalen Carter is off to a tremendous start and has played 48% of the Eagles' defensive snaps, it's been a slower start for the No. 30 pick Smith, who has played just 10%.
For now, he's behind Josh Sweat, Haason Reddick, Brandon Graham and Derek Barnett in the rotation.
But he's not sweating it.
"I'm not worrying about it," Smith said. "I'm just taking it every day at a time. I'm still learning from the amazing guys that I've got in my room. I've got guys that, what, the lowest amount (of time in the league) is seven years. And I'm just the youngest guy on the sideline. I'm just soaking it up, learning how the league is actually played."
While Smith played just six snaps in Monday's win over the Buccaneers, he did record the first quarterback hit of his young NFL career.
"Oh man, it felt great," Smith said. "It was just an awesome moment. I'm just tying to make more plays and just get more happening."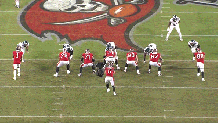 While Smith didn't hit the QB with a clean pass-rush win, this was a hustle play and there's pride involved with that too. Through three games, we've seen all the young Georgia defensive linemen make huge hustle plays. The fumbles Jordan Davis and Carter have forced this season were hustle plays. So was this QB hit from Smith.
That's not a coincidence.
"Because at Georgia, if you don't hustle to get there, somebody else is going to get there before you," Smith said. "That's how we do it. We tell each other, I'll see you at the ball. And then we really do see each other at the ball."
Smith has played 38 snaps (49%) on special teams but he hasn't played all that much on defense yet.
Through three games, here's how the edge rusher snaps have been divvied up:
Josh Sweat: 131 (71%)
Haason Reddick: 128 (69%)
Brandon Graham: 55 (30%)
Derek Barnett: 41 (22%)
Nolan Smith: 19 (10%)
Patrick Johnson: 0
The one obvious way to get Smith more snaps is to simply make things a little more equal between him and Barnett, although Barnett is a veteran and has been lining up inside at times.
In any case, Smith was the No. 30 pick for a reason. And even the defensive coordinator seems intent on getting Smith on the field more.
Either way, the rookie is fine.
"I'm not worrying about that," Smith said. "Everything happens for a reason. There's a time and place for everything. I believe it's God's plan."
Subscribe to Eagle Eye anywhere you get your podcasts:
Apple Podcasts | YouTube Music | Spotify | Stitcher | Art19 | RSS | Watch on YouTube