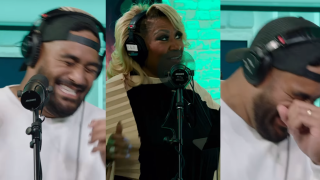 There's no better way to kick off the holiday season than knowing some of your favorite Eagles are coming together and recording a Christmas album. 
For the second consecutive year, Jason Kelce, Lane Johnson and Jordan Mailata have teamed up to bring a little extra cheer around Philly and the NFL.
"A Philly Special Christmas Special," now available for pre-sale, just released its second single off the 10-track album, "This Christmas." 
The song features Mailata and special guest, Godmother of Rock and Soul (And West Philly native), Patti LaBelle. 
Listen here:
Not only is this version an instant classic — the behind-the-scenes footage is some of the best we've seen out of the two albums.
LaBelle joined the offensive linemen in the studio where she and Mailata were prompted to ad-lib a bit. Little did we know the moment would give Mailata just a *bit* of stage fright:
LaBelle is a legend — a true icon in the music world — and anyone in a similar situation would have reacted the same way. 
It's genuinely such a wholesome moment — one that should leave you smiling after watching it. Combine that with the random cuts to Kelce's iconic facial expressions and you have the perfect video. 
Oh, to be a fly on the wall.
The complete album is set to be released December 1, with proceeds benefitting the Children's Crisis Treatment Center and the Children's Hospital of Philadelphia.