VOORHEES, N.J. — The parking lot at Flyers Training Center was packed nearly to capacity.
Inside the facility, fans filled the stands and swarmed the boards to watch the Flyers' prospects.
With the organization's fan fest giving way to a 5-on-5 scrimmage, the Flyers had a good turnout Thursday night to wrap up 2023 development camp.
"It's a new era of orange and everyone loves it I guess," Tyson Foerster said with a smile. "It was pretty fun to see them come out and support us. It was great for all the young guys, too."
Team Lindros beat Team Clarke, 5-4, in a shootout. There were two 30-minute periods with a running clock. Late in the final frame, the action turned to 3-on-3.
Alex Bump buried two goals and a shootout marker for Team Lindros. J.R. Avon added a goal on a penalty shot and camp invite Sam Sedley found the back of the net, as well. Along with Bump, Samu Tuomaala scored in the skills competition.
For Team Clarke, Owen McLaughlin finished with a goal and shootout tally. Alexis Gendron, Ethan Samson and camp invite Jacob Gaucher also tallied markers.
Head coach John Tortorella watched the action from the perch alongside general manager Danny Briere.
Here's what we saw over Day 1, Day 2 and Day 3 at Flyers Training Center. Let's get into five observations from the camp-ending scrimmage.
1. Andrae ready for the Flyers?
Emil Andrae showed why he shined at the 2022 world juniors and played big minutes last season in the SHL, Sweden's top pro league.
It seemed as if the 21-year-old defenseman hardly ever left the ice during the scrimmage. Andrae is 5-foot-9, but he's strong, he competes his tail off defensively and he constantly has the puck on his stick, surveying the ice offensively.
Multiple people have likened the 2020 second-round pick to former Flyers defenseman Kimmo Timonen.
"I love to play hockey," Andrae said. "I'm competitive and I give my 100 percent every time I'm on the ice. If we would have stayed on [the ice] one hour, I wouldn't complain. It was nice to be out there."
The Flyers hope Andrae is a much-needed answer on the back end in their rebuild.
"Such a smart player," Flyers assistant general manager Brent Flahr said. "I'm really excited to see him with NHL players. I just think he's such a smart kid, so poised and competitive that I think he'll make a pretty good impression in [training] camp is my guess."
Andrae signed his entry-level contract in March, signaling what seemed to be the end of his time overseas. However, there is a chance he could go back to Sweden this season if he doesn't make the Flyers' roster out of camp in the fall. The Flyers are hoping to work out the logistics on Andrae's status because they clearly feel he's at least ready for the AHL, if not seriously knocking on the NHL door.
"He'll be at camp, for sure," Flahr said. "There is an option [to go back to Sweden], but I think we'll speak to his people. To me, he's pretty close to challenging for a spot full-time. If it was all my choice, he would be here. If he needs a little bit of time, a little seasoning, great. But ... my guess is Torts is going to like this player. We'll see where it goes. We'll figure that out as the summer goes on after talking to his people."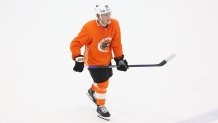 2. Bump up the jam
Three days ago, Bump talked about his shot being one of his biggest assets. The 19-year-old winger put it on display Thursday night.
His second goal came during the 3-on-3 portion of the scrimmage as he fired a shot bar down. If the 2022 fifth-round pick wanted to make an impression on Tortorella and company, he likely accomplished that.
"Just a little bit of nerves, but just play my game," Bump said. "I know I can play the sport well. ... They drafted me for a reason, so I just try to play my game."
After playing last season in the USHL, the 6-foot, 200-pound Bump is headed to Vermont, where Flyers special advisors to hockey ops John LeClair and Patrick Sharp both played collegiately.
In his draft year, Bump was a big-time goal scorer at the Minnesota high school level.
"That's what he has been," Flahr said. "He's one player, though, that has made huge strides physically from a year ago. Last year, he was kind of just a naive high school kid that came in here. He did a year in the USHL and has put in his time wisely. His testing, I know from talking to the strength guys, from last year to this year, was one of the most drastically improved players. And you can see it. He's just stronger on the skates. His skating still has to come a little bit, but his top-end speed is fine.
"He just knows how to score. I was talking to John LeClair earlier, there are kids that can really shoot the puck, most of these guys can really shoot the puck, but there are guys that can just score and he seems to have a knack for that."
3. 'He's just a likable player'
The Flyers were happy to see Elliot Desnoyers take part in the scrimmage. The day before, he left the ice early after slamming into the boards during a competitive drill with Andrae. He needed help to the locker room and wasn't putting much pressure on his right foot.
Turned out, though, Desnoyers was OK.
"I was a little bit relieved when I walked out of practice and he was good," Andrae said. "It was unlucky. I've got his back."
Both players are alike in their competitiveness.
"I consider him one of my best friends here," Desnoyers said. "I mean, I was happy that, like, he was going hard, that's how you improve yourself as teammates. At the end of the day, it was a battle drill and unfortunate that I kind of lost an edge there, but that type of stuff happens."
In the scrimmage, Desnoyers looked like a player that saw four games in the NHL last season. He was that impressive in his first year of pro hockey with AHL affiliate Lehigh Valley that the Flyers gave the 2020 fifth-round pick an audition as a reward.
On Thursday night, he made a superb pass to set up Bump's goal. The 21-year-old forward was one of the best players on the ice.
Could he push for a job in training camp?
"He won't surprise me ever, that kid," Flahr said. "I think you guys have probably talked to him enough to know that he's extremely driven. He'll do whatever he can to try to make it. If it's this year, next year or partway through the year, he's going to do whatever he can.
"He's a very intelligent player and he's a player that coaches kind of gravitate toward because he can be trusted in all situations — defensive zone, offensive zone, he goes to the net, he stops at the net, he fights for loose pucks. He's just a likable player."
4. Tuomaala's improvement
Tuomaala, a speedy Finnish winger with offensive ability, opened eyes in the scrimmage by playing a straight-line, pro-like game.
In one sequence, he created a chance for himself by winning a puck race not just with his speed, but also his physicality on Foerster. Tuomaala might not make that play a year or so ago.
"He feels like he has a better patience in the games," Flyers player development coach Sami Kapanen said Wednesday. "He's not, every shift, expecting to score goals or having the offense. He understands it better now, reading the game, when to go for offense. I think the overall game, the defensive part of the game, has gotten better. He's valuing it more, the little details, that are going to help a team win, so it's not all about offense anymore."
The 2021 second-round pick has had a couple of challenging and short seasons in Liiga, Finland's top pro league. He's set to join the Phantoms this season. His game looked more aggressive and multidimensional in the scrimmage.
"We want him to be free to create offense," Flahr said. "At the same time, he's got to manage the puck and do certain things. And just learn to use his speed and his shot. He's got dynamic tools and it's just about using them."
Last season, Tuomaala rediscovered his offense when he started playing in Mestis, a lower level in Finland.
"It's going to be an adjustment for the game over here — smaller ice and the physicality, things like that," Flahr said. "But he's come in great shape, he's skating well, he seems confident, he's having fun playing the game. I know last year when I met with him in November over there, he was really lacking his confidence. For a guy that's known for scoring goals and generating offense, confidence is everything and he didn't have it. I think when he went down there, he scored some goals and he was feeling better about himself. I think having a big summer here, hopefully he comes to camp and shows what he can do."
5. Some hometown touch
If Flyers fans didn't know McLaughlin, they likely learned his name Thursday. The 2021 seventh-round pick is a local product from Spring City, Pennsylvania, in Chester County. He's a 6-foot, 158-pound center who will be a sophomore at North Dakota this season.
In the scrimmage, McLaughlin exhibited his quickness on a nice wraparound goal and his shootout marker was skillful.
"He's sick, he's super silky," Foerster said. "He's kind of small, but his skating and his hands are unbelievable. He was nice to play with out there today."
Subscribe anywhere you get your podcasts:
Apple Podcasts | Youtube Music | Spotify | Stitcher | Art19 | RSS | Watch on YouTube