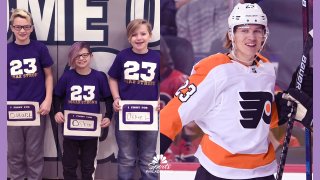 It's been just over a month since the news broke that Flyers forward Oskar Lindblom had been diagnosed with Ewing's sarcoma. In almost an instant, the hockey community responded with an ample amount of love and support, where teams and fans from coast to coast represented the 23-year-old through the Hockey Fights Cancer initiative and purchasing "Oskar Strong" shirts through Biscuit Tees.
It doesn't end there, though.
The community continues its fight alongside Lindblom and today is no different. Local students at West Deptford Middle School, Brody Chaplick, Zakk Carson and Brendan Halter wanted to be a part of "Oskar Strong" and found a way to do so that is truly inspiring.
The school has spent the past week selling purple bandanas to raise money and support for the Alicia Rose Victorious Foundation. This sparked an idea among the friend group — to create a "wear purple day" at the school. Together, they created a flyer to suggest the idea to their teacher, Tom Lindsay, who was moved by their proposal.
When they first came to me, I knew they liked hockey and they know that I'm a big hockey fan — they brought this flyer to me. It was very inspiring because these three came up with this on their own. Just to have that act of caring and kindness for someone that they never met before … it really touched my heart.
So when Thursday Jan. 23 arrived, the hallways were filled with students and faculty wearing purple. On the morning announcements, the boys each took a turn explaining what exactly Ewing's sarcoma is, to help educate their classmates who may not know. Carson even threw in some notable statistics of the left winger's career with the Flyers.
Afterward, I was able to talk to the boys who put it all together. Here is what they said:
He's going through something right now … and we wanted to have this day where everyone wears purple to honor Oskar and him fighting.
-Chaplick
We knew that he has been getting treatment and wanted to create a day as Hockey Fights Cancer Day to honor him and help him as he battles Ewing's sarcoma.
-Halter
Halter even created custom shirts for the trio to wear today, where the front displays Lindblom's number and "Oskar Strong."
(Pictured from left to right: Christine Trampe, Zakk Carson, Brendan Halter, Brody Chaplick, Tom Lindsay)
What was also notable was the back of the shirts to show support for Zach Steward and his fight as well. Steward, who previously attended the school and is currently in his second fight against Leukemia, was with the Flyers on their Hockey Fights Cancer night at Wells Fargo Center.

"I'm proud of our students every single day, but opportunities like this where they go above and beyond and are so caring and want to give themselves. We discuss all year long how we can make a difference. Middle School students can make a difference. Although they may be younger, they're just as influential."
When Lindsay had approached Trampe about the students' proposal, it was a rather easy decision on if they could go through with a day like this.
"It can't just stop there," Trampe said. "You have to be the organization behind it. They were the ones who had to create the flyer, bring the proposal to us, we had to edit it together — we went through the process of when you have an idea, you have to see it through to the end to see it come to fruition."
The school holds many events and fundraisers all year long, but for three students to come up with this idea, just makes a moment like this even more special.
The hockey community is tightly knit and one small gesture like this can inspire those locally and even across the league. Both Carson and Halter have been playing hockey for some time now and with Chaplick starting soon, they're going to be able to understand even more just how special of a community it is.
Click here to download the MyTeams App by NBC Sports! Receive comprehensive coverage of your teams and stream the Flyers, Sixers and Phillies games easily on your device.
More on the Flyers