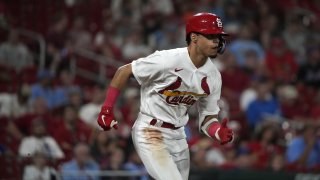 While Masyn Winn's first MLB hit was an infield single, the ball wound up in the stands.
Winn, the St. Louis Cardinals' top prospect, made his major league debut in Friday night's game against the New York Mets. And in his second at-bat, the 21-year-old legged out an infield single after bouncing a chopper to third for his first hit.
But instead of throwing the ball back to the Cardinals' dugout for Wynn to keep, Mets first baseman Pete Alonso chucked it into the Busch Stadium crowd.
The move apparently wasn't appreciated by Cardinals pitcher Miles Mikolas, who had some words for Alonso. And chants from the crowd urging the fan who caught the ball to give it back also followed.
Ultimately, the Cardinals were able to get the ball back from the fan who caught it. According to MLB.com's John Denton, the fan received an autographed ball, jersey and hat in exchange for returning the ball from Winn's first hit.
It was unclear in the moment whether Alonso knew it was Winn's first hit. But after the game, Alonso called the incident "just a bad brain fart" and that he felt "awful" about it.
"I feel horrible. I feel awful. I know it sounds stupid, but it's just a bad brain fart," Alonso told reporters. "Throwing the ball in the stands, that robs him of a really special moment. I feel really bad thinking back on my first hit and just getting the ball thrown back to the dugout.
"I always throw the ball in the stands [when it's being switched out] but I'll never throw the ball in the stands again. I'm just gonna roll every ball to the dugout when they're going to switch it out.
"That's a really bad mistake and it's completely unintentional. I feel horrible about it."
Alonso said he apologized to Winn during the game, adding that he's "going to try to talk to him and get him something for tomorrow as an apology."
Winn, meanwhile, initially had "no idea" what Alonso did and said he found the whole thing amusing.
"[Alonso] apologized on first, and when he got to second later, he apologized as well. Complete accident. I thought it was quite funny," Winn said. "Especially after we got the ball back, I thought it was a little more funny."
Now that the ball is in his possession, Winn said he's probably going to give it to his mother.