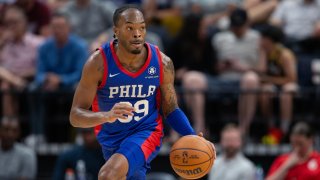 The Sixers are signing point guard Javonte Smart to an Exhibit 10 contract, a source confirmed Saturday to NBC Sports Philadelphia.
ESPN's Adrian Wojnarowski first reported the news.
Exhibit 10 contracts are one-year, minimum-salary deals. They can be converted into two-way contracts before the regular season starts.
In the event a player is waived before the regular season begins, the Exhibit 10 clause can enable him to earn a bonus by staying with an organization and ultimately playing for its G League affiliate, which is common to see. The Sixers' G League team is the defending champion Delaware Blue Coats.
Smart played for the Sixers this year in summer league and did well, posting 15.3 points, 5.1 assists and 4.1 rebounds per contest over eight games. The 24-year-old's self-assured, mature decision-making shined in what's often a frenetic setting. He dished out 41 assists and committed just eight turnovers. Smart also showed the ability to exert effective pressure defensively and looked solid on the ball.
Smart has previously been a two-way player for the Heat and Bucks, making 17 NBA appearances between those teams in the 2021-22 season. He played last year for the Birmingham Squadron, the Pelicans' G League affiliate, and averaged 13.6 points and 3.1 assists during the regular season.
For the time being, the Sixers have 14 players on standard NBA deals. That includes Montrezl Harrell, who suffered a torn ACL a couple of weeks ago. They've signed undrafted rookies Terquavion Smith, Rickie Council IV and Ąžuolas Tubelis to two-way contracts.
Teams can roster up to 21 players during the offseason, but they must cut down to 18 or fewer (15 plus three two-ways) by the regular season.