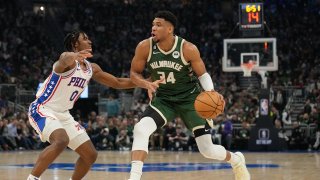 While the Sixers' full 82-game schedule will be known soon enough, two games on the team's 2023-24 slate have now been reported.
The Sixers will begin their season with a road matchup against the Bucks on Oct. 26, The Athletic's Shams Charania reported Friday night.
Charania reported Thursday that the Sixers will play the Heat on Christmas Day.
The Sixers went 2-2 last year against the Bucks, who won an Eastern Conference-best 58 games but then got stunned by Miami in Round 1 of the playoffs. Both the Sixers and Milwaukee will be led by new head coaches next season in Nick Nurse and Adrian Griffin, respectively. Griffin worked under Nurse as a Raptors assistant for five seasons, so it's unlikely either coach will be shocked schematically.
In their home opener last season, the Sixers dropped a tight game to the Bucks. The team's March 4 road win over Milwaukee was a strong contender for its best victory of the season. Down 18 points late in the third quarter, the Sixers came back to snap a 16-game Bucks winning streak.
NBA training camps are set to open Oct. 3, meaning Nurse should have slightly over three weeks between Day 1 of camp and his team's regular-season opener. The Sixers' first of four preseason games will be Oct. 8 against the Celtics in Boston.