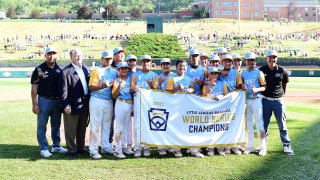 The 2022 Little League World Series was the first to include 20 teams, but even with more competition, no one was a match for Hawaii.
The West Region representative from Honolulu tore through the tournament. The team outscored its opponents 60-5 across six games, trailed only once and needed just four innings to beat Curaçao in the championship game.
Hawaii is up to four LLWS championships in its history. Where does that rank among other U.S. states, and how does it compare to individual countries?
Let's look back at previous Little League World Series champions:
Which country has won the most Little League World Series titles?
The U.S. has won more LLWS championships than every other country combined.
The first 10 titles stayed in the U.S. because international teams had not yet been allowed to enter the tournament. It was also won by default in 2021 since the field was made up of 16 American teams.
The 1957 event was the first to feature non-U.S. countries, and Monterrey Industrial Little League of Mexico became the first international champion that year thanks to a perfect game in the title game from Angel Macias.
Chinese Taipei has the most LLWS titles of any non-U.S. country with 17. Here is how those titles stack up against the U.S. and every other international champion:
United States: 38
Chinese Taipei: 17
Japan: 11
Mexico: 3
South Korea: 3
Venezuela: 2
Curaçao: 1
Which U.S. state has won the most Little League World Series titles?
California leads the pack with seven LLWS championships. Six of those have come from Southern California teams, while Campbell earned one for Northern California in 1962. The state's most recent winner came from Huntington Beach in 2011.
In all, nine states have earned multiple LLWS crowns and five states have one. Here are the 14 states with a Little League World Series champion:
California: 7
Connecticut: 4
Hawaii: 4
New Jersey: 4
Pennsylvania: 4
Georgia: 3
New York: 3
Michigan: 2
Texas: 2
Alabama: 1
Kentucky: 1
Louisiana: 1
New Mexico: 1
Washington: 1
Little League World Series winners by year
Here is the list of every champion from the event, beginning with the hometown team and ending with the most recent winner:
1947: Williamsport, Pennsylvania
1948: Lock Haven, Pennsylvania
1949: Hammonton, New Jersey
1950: Houston, Texas
1951: Stamford, Connecticut
1952: Norwalk, Connecticut
1953: Birmingham, Alabama
1954: Schenectady, New York
1955: Morrisville, Pennsylvania
1956: Roswell, New Mexico
1957: Monterrey, Mexico
1958: Monterrey, Mexico
1959: Hamtramck, Michigan
1960: Levittown, Pennsylvania
1961: El Cajon, California
1962: San Jose, California
1963: Granada Hills, California
1964: Staten Island, New York
1965: Windsor Locks, Connecticut
1966: Houston, Texas
1967: West Tokyo, Japan
1968: Wakayama, Japan
1969: Taipei, Taiwan
1970: Wayne, New Jersey
1971: Tainan, Taiwan
1972: Taipei, Taiwan
1973: Tainan City, Taiwan
1974: Kaohsiung, Taiwan
1975: Lakewood, New Jersey
1976: Tokyo, Japan
1977: Kaohsiung, Taiwan
1978: Pingtung, Taiwan
1979: Chiayi, Taiwan
1980: Hualien, Taiwan
1981: Taichung, Taiwan
1982: Kirkland, Washington
1983: Marietta, Georgia
1984: Seoul, South Korea
1985: Seoul, South Korea
1986: Tainan Park, Taiwan
1987: Hualien, Taiwan
1988: Taichung, Taiwan
1989: Trumbull, Connecticut
1990: Tainan County, Taiwan
1991: Taichung, Taiwan
1992: Long Beach, California
1993: Long Beach, California
1994: Maracaibo, Venezuela
1995: Tainan, Taiwan
1996: Kaohsiung, Taiwan
1997: Guadalupe, Mexico
1998: Toms River, New Jersey
1999: Hirikata, Japan
2000: Maracaibo, Venezuela
2001: Tokyo, Japan
2002: Louisville, Kentucky
2003: Tokyo, Japan
2004: Willemstad, Curaçao
2005: 'Ewa Beach, Hawaii
2006: Columbus, Georgia
2007: Warner Robins, Georgia
2008: Waipahu, Hawaii
2009: Chula Vista, California
2010: Tokyo, Japan
2011: Huntington Beach, California
2012: Tokyo, Japan
2013: Tokyo, Japan
2014: Seoul, South Korea
2015: Tokyo Japan
2016: Endwell, New York
2017: Tokyo, Japan
2018: Honolulu, Hawaii
2019: River Ridge, Louisiana
2021: Taylor, Michigan
2022: Honolulu, Hawaii