TAMPA — With Kenny Gainwell coming back from injury and with D'Andre Swift coming off a huge performance in Week 2, it was fair to wonder how the playing time would shake out at running back.
In the Eagles' 25-11 win over the Buccaneers, Swift was the top back and he made the most of it.
Swift started the game and played 43 snaps (54%) to lead the running backs. But we still saw a bunch of Gainwell, who played 37 snaps (46%). Rashaad Penny was active but didn't see any action. Boston Scott (concussion) was inactive. Remember, in the opener Gainwell out-snapped Penny 41-19.
While Gainwell played a lot at the end, it was a really heavy Swift game early. And Swift had a big performance:
Swift: 43 snaps, 16 carries, 130 yards (8.1), 1 catch for 8 yards
Gainwell: 37 snaps, 14 carries, 43 yards (3.1), 1 catch for 5 yards
While Swift was clearly the more productive back on Monday, many of Gainwell's carries came late in the game when the Eagles were in obvious running situations. But Swift was great. He became the first Eagles running back since LeSean McCoy in 2014 to have back-to-back 130+ yard rushing games.
Other offensive notes
• Jalen Hurts played all 80 snaps despite coming into the game with flu-like symptoms. And four of his five offensive linemen played every snap too. Landon Dickerson played 55 snaps before leaving with a knee contusion. Sua Opeta played 25 snaps in his place at left guard.
• DeVonta Smith played 79 of 80 snaps, followed by A.J. Brown (66), Olamide Zaccheaus (44) and Britain Covey (4). Quez Watkins was inactive with a hamstring injury. Brown had a big day with 9 catches for 131 yards. Zaccheaus caught his first two passes of the year for 58 yards and a touchdown.
• Dallas Goedert played 74 of 80 snaps, while Jack Stoll played 41 and Grant Calcaterra played 12. The Eagles used some 12 personnel in this game and actually opened with it. Stoll was a starter.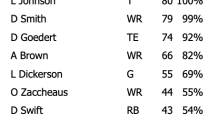 Defensive notes
• Reed Blankenship, Nicholas Morrow and Darius Slay played all 47 snaps. James Bradberry missed just one and was moving inside and outside all night. On the one snap he missed, he had been playing nickel and ran off the field, leaving Josh Jobe outside.
• The Eagles rotated a bit at the nickel spot. When Bradberry was in there, Jobe was the outside corner. He ended up playing 27 snaps. And rookie safety Sydney Brown played 12 snaps before leaving with a thigh injury. He played long enough to have a big PBU against Mike Evans in the red zone.
• Zach Cunningham played the second-most snaps among the linebackers with 36 but Christian Elliss rotated in, playing 8 snaps.
• The DT rotation: Fletcher Cox 32, Jordan Davis 21, Jalen Carter 21, Milton Williams 17, Marlon Tuipulotu 8, Kentavius Street 4. This group continues to be really strong. Tuipulotu had a sack on one of his eight snaps.
• The edge rotation: Josh Sweat 32, Haason Reddick 31, Brandon Graham 17, Derek Barnett 11, Nolan Smith 6.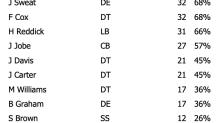 Subscribe to Eagle Eye anywhere you get your podcasts:
Apple Podcasts | YouTube Music | Spotify | Stitcher | Art19 | RSS | Watch on YouTube